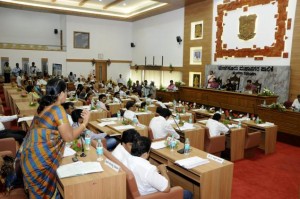 MANGALORE: Even as Dakshina Kannada readies itself for a total ban on plastic bags, cups and covers from November 1 this year, Mangalore City Corporation here is planning to arm itself with a bylaw for plastic waste management and handling. As per the bye-law no plastic carry bag shall be used as means of advertisement of any product or trade. The draft will come for approval in this month's council meeting. As per the draft, MCC will levy a pollution cost of Rs 500 on retailers issuing plastic carry bags to consumers for free or selling it without authorization.
Trading licences of retailers will be cancelled for the second offense. The bylaw was drafted following a decision taken by the state's plastic waste advisory committee earlier this year, which wanted city corporations to enact bylaws for including plastic waste management and handling rules 2011.The ratified bylaw will be sent to the government for approval and its implementation will follow once the government gives the go ahead, said K Harish Kumar, commissioner, MCC. "The civic body will also implement a decision that the district administration may take with regard to ban on plastic.
The bylaw is the result of Supreme Court directives to urban local bodies with regard to solid waste management," he added.The draft states no retailers can make available carry bag free of cost to consumers and shall not be used as a means of advertisement of any product or trade.Pollution cost will be collected for effective control of use/sale/distribution of unauthorised carry bags and/or issuance of free plastic carry bags. The bylaw proposes different sale prices for carry bags ranging from Re 1 to Rs 5 depending on the size, Harish Kumar pointed out.
Deputy commissioner NS Channappa Gowda said it is the intent of the minister for higher education CT Ravi, who is also the district in-charge to root out plastic bags. Ravi described plastic as modern day demons. "While it is not possible to totally ban plastics, the first step in this direction will come by banning sale of plastic bags, covers and cups," DC said adding administration will take series of step to create awareness among all stakeholders prior to that.