Royal DSM, the global Life Sciences and Material Sciences company, applies Bright Science to make people's lives better, safer, easier and healthier. At Chinaplas 2014 (at the Shanghai New International Expo Center from April 23 to April 26) the company will be presenting sustainable and innovative solutions that address key global challenges (DSM is on booth N1D41). The solutions cover automotive, electrical & electronics, flexible food packaging, consumer goods, building & construction, and beyond.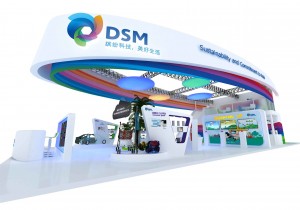 DSM sees great opportunities in China, and has a strong commitment to the country since 1963 — a commitment confirmed by CEO Feike Sijbesma during last month's Netherlands-China Trade and Economic Forum in Noordwijk (the Netherlands), attended by China President Xi Jinping and large business delegations from both countries. "As a Netherland-based company with unique competences in Life Sciences and Materials Sciences, DSM is committed to contributing to the ambitions of China and will continue to invest in China," said Sijbesma.
With its extensive capabilities as a leading high performance materials producer, DSM continues to apply Bright Science to deliver winning applications, outstanding customer benefits, and long-term sustainable solutions. "Our strategy and innovation are addressing the megatrends of the industry. We are fully committed to do everything we can to contribute to a more sustainable world." explains Ivo Lansbergen, President of DSM Engineering Plastics Asia Pacific.
To meet these needs, DSM has a broad portfolio of high performance materials. These include Stanyl® heat-resistant PA46, Stanyl® ForTii™ high performance PA 4T, EcoPaXX® 70% bio-based PA410, Akulon® PA6 and PA66, Novamid® PA6, PA66, PA6/66 copolymer, and amorphous transparent PA, Arnitel® thermoplastic copolyester, and Arnite® polyesters (PBT and PET) .
Solutions for Brighter Living
Numerous market solutions and applications will be demonstrated by DSM during the trade show.
In Electrical & Electronics, following the latest market trends, DSM is focusing on enabling greener, smarter and smaller electronics.
Stanyl® ForTii™ polyamide 4T has been selected by LOTES, the leading Taiwanese memory connector manufacturer, for housings of a new range of DDR4 connectors for the next generation of computer memories. The new connectors will meet OEM design needs in servers, desktops, complex base stations and voice gateways.
Stanyl® ForTii T11 has been selected by WanJie Electronic in SMT-soldered terminal blocks. Stanyl® ForTii™ T11, an halogen-free, high temperature polyamide 4T combined with outstanding thermal and mechanical performance, has been designed to meet the stringent regulations and high performance requirements for the high-end terminal block market.
Stanyl® TC thermally conductive PA46 provides LED retrofit lamp manufacturers with a plastics solution that delivers superior thermal management properties to dissipate the heat generated by the LED compared to metals. With Stanyl TC, total system costs and weight are reduced while design flexibility is enhanced, compared with solutions in aluminum.
In Automotive, DSM addresses the key trends of weight and friction reduction in order to cut down fuel consumption and CO2 emissions, and of improved functionality and safety.
EcoPaXX® polyamide 410 has been selected by Dytech-Dynamic Fluid Technologies for the fuel vapor separators it produces for Ferrari and Maserati sports cars. This solution, in halogen-free flame retardant EcoPaXX® Q-KGS6, will increase the fire safety of the cars by combining flame retardancy with a high level of chemical resistance, essential for this application.
Stanyl® PA46 provides an ideal solution for automotive chain tensioner slide shoes. Stanyl® PA46 lowers the amount of friction in a timing system, thus reducing CO2 emissions, while at the same time delivering high wear resistance.
For Consumer Goods, DSM is presenting applications that combine sustainability with high performance.
EcoPaXX® polyamide 410, the high performance bio-based engineering plastic, has been adopted for Salomon snowboard bindings made by Amer Sports. Until now, Salomon snowboard bindings have been made in polyamide 6 or 66, but the new series has are made in a carbon neutral material.
For the Flexible Food Packaging industry, DSM continues to innovate on solutions for improved flexible packaging design responding to rising demand for food, food packaging materials, and sustainability.
In addition, DSM has added a higher viscosity extrusion grade to its portfolio of EcoPaXX™ polyamide 410 for the film, fiber and monofilament markets. The new grade is designed to support customers who appreciate the excellent thermal stability, broad processing range and very good melt strength of EcoPaXX.
During Chinaplas, DSM will present, in five seminars on April 24th, innovative solutions answering certain market trends in automotive, E&E, and consumer goods. Attendance is free upon up-front registration. Details can be found at:  www.dsm.com/campaigns/chinaplas/en_us/seminar.html.
At its Research and Technology and Innovation Centre in Shanghai, DSM is collaborating extensively with Chinese academic partners. DSM has also established its first application development technical center for engineering plastics in Japan in 2013, and is scheduled to launch a technical center in India in 2015. All these combined efforts reflect the company's overall commitment to Asia.
By connecting its unique competences in life sciences and materials sciences, DSM is able to create shared value through in-depth understanding of the industry, and the ability to successfully address the challenges faced by its customers and customers' customers. The company is looking forward to showcasing its solutions at Chinaplas, and to talking with existing and future partners about new and challenging projects.More information can be found a twww.dsm.com/chinaplas.