In the first half of 2013, the Spanish Arburg subsidiary held two open house events at the Technology Center in Barcelona and in Alicante which hosted around a total of 90 customers.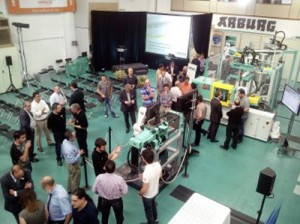 "Once again, both events were a complete success for us," says Martin Cayre, Managing Director of Arburg's Spanish subsidiary. "Our customers lost no time in taking this opportunity to talk to our experts. Many were surprised at the potential for optimization that they could exploit, using our Selogica control system, intelligent automation and energy-efficient injection molding technology, for example. Participants obtained numerous novel ideas and impetus, which they could put into practice in their own plant relatively easily."
In Barcelona, automation workshops were held in small groups in the morning. In the afternoon, approximately 50 customers learned about current automation issues in specialist presentations given by experts from Arburg's Lossburg, Germany headquarters and representatives from Hasco and Enicont.
In the subsequent practical session, simple programming using the Selogica user interface was demonstrated by means of a six-axis Multilift Select linear robotic system. The Arburg team showed how to optimize robotic sequences by synchronizing the machine movements and the "Set-up Assistant" Selogica module. This human-machine interface assists the installation technician through guided menus, and simplifies the set-up process: from mold changes and automatic parameter calculation, through to teaching the finished production sequence.
For the 40 or so customers at the open house in Alicante, the focus of the presentations and practical demonstrations was production efficiency in which Mr. Cayre talked about the factors that influence the entire value-added chain.
In the practical session, the Spanish Arburg team explained the various drive concepts, and the advantages and areas of application of hydraulic and electric injection molding machines. A hydraulic Allrounder 320 C from the Golden Edition series was used to demonstrate the production of a piggy bank on a Hasco mold.
The machine operated once with and once without the productivity package, which includes the Arburg energy-saving system (AES) with variable speed pump drive and water-cooled drive motor. With this package, the two-circuit pump drive version, which enables simultaneous machine movements, is rendered even more cost-effective. Comparative energy measurements showed that energy consumption was reduced by 18% when the productivity package was used.
The second example involved an Allrounder 370 E from the electric entry-level Edrive series, which produced the "spider's web" BASF component. Using the Arburg cost efficiency calculator, the results were compared with those of the 2012 open house in Olaker, when a hydraulic Allrounder 320 C Golden Edition operated with the same mold.
Over 300 days of production in 3-shift operation and with 95% availability, the electric machine achieved an extra yield of 12,500 euros a year, so that the higher purchase costs are amortized over a period of just 1.6 years due to higher productivity and lower energy requirement.
Source:  www.adsalecprj.com/Publicity/MarketNews/lang-eng/article-67006944/Article.aspx