The Beumer Group will present its products and system solutions for the palletizing and packaging technology sector at Khimia 2013, the international trade fair for the chemical industry and science to be held from October 28-31 in Moscow, Russia.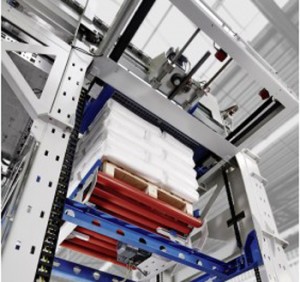 One of the products that will be presented is the paletpac high performance layer palletizer. It stacks PE and PP bags to a packing height of 2,400mm on any standard size pallets. The machine is flexible, geometrically accurate and stable, notes Beumer, while the user can quickly and easily set the required parameters via a multi-program.
Depending on the product requirements, Beumer's paletpac can be fitted with a rotary clamp or a double belt turning device which moves the filled bags into the required position. According to the German machinery supplier, even bags filled with granulate can be gently palletized, remaining dimensionally stable when stacked.
For bags with PE granules, which evince a special flow behavior, or bags exposed to high temperatures and humidity, Beumer uses ventilated, specially-coated laying tables, producing a cushion of air between the bag and the delivery table, thereby prevents bags sticking to the supporting surface and enables them to retain their dimensional stability on the pallet.
Also on display is the Beumer stretch hood M high performance packaging machine, designed to handle numerous film thicknesses and package stacked bags quickly, reliably and sustainably. The company says it is an environmentally-friendly pallet packaging option because of its flexible handling of different pallet and film formats, high throughput, reliable film handling, low energy consumption, low compressed air requirement and the ability to process recyclable packaging film.
Beumer will also be presenting its Warehouse Management System (WMS) that suits to the requirements of the chemical industry, like the storage of sensitive substances, batch tracking and space-saving, cost-efficient warehouse management.
Source:  www.adsalecprj.com/Publicity/MarketNews/lang-eng/article-67006943/Article.aspx