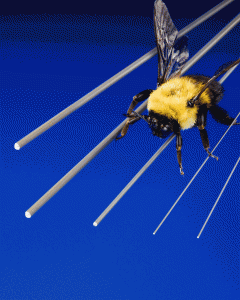 Applied Plastics (Norwood, MA) is adding equipment to meet growing demand for tighter tolerances, cleanliness, and higher performance from the medical market. "We have added custom equipment in the last 18 months in order to coat large diameter wires for the medical industry, Marketing VP David Ring of Applied Plastics told PlasticsToday. "The medical market is 75%-80% of our market and growing. We ship to medical device companies all over the world."
Applied Plastic uses custom-made processing equipment that can hold tolerances of ±0.0001-in., according to Ring. The business includes a fluoropolymer powder coating service for all types of parts requiring chemical- and corrosion-resistance, ranging from small components to large castings. Electrostatically applied, typical parts include valves, pumps, mixers, chutes, handles, and tanks.
Fluoropolymer options
Powder coatings include standard formulations such as DuPont Teflon polytetrafluoroethylene (PTFE), fluorinated ethylene propylene (FEP) and perfluoroalkoxy (PFA); DuPont Tefzel ethylene tetrafluoroethylene (ETFE); Teflon S (fluorocarbon that contains binding resins to boost hardness); Halar ECTFE from Solvay; Kynar fluoropolymers from Arkema; Xylan fluoropolymers from Whitford and custom formulations when needed.
The ectrostatically applied coatings, which range from 0.0002-in, to 0.025-in thick, add chemical- and corrosion-resistance to parts up to 2,000 lbs. Applied Plastics Co., Inc. also produces forming mandrels coated with Teflon that maintain tight tolerances on the inside diameter of catheter shafts. The PTFE-coated mandrels are offered in stainless steel or nitinol (nickel titanium alloys) to prevent sticking, block tubing from shrinking, and to simplify catheter removal in fuse welding and tipping operations.
They are available in standard 0.005-in to 0.070-in sizes, in many fractional diameters within ±0.0003-in of each other, and custom sizes. The smooth, anti-stick surfaces can withstand heat up to 300°C continuous, with excursions up to 371°C, according to Applied Plastics. They provide a 0.05 coefficient of friction per ASTM-1894. Founded in 1954, Applied Plastics Co.is a family-owned business and is one of the original licensed industrial applicators of DuPont Teflon finishes.
SOURCE : http://www.plasticstoday.com/articles/applied-plastics-boosts-capacity-medical-oems0827201201