Bach Mai Hospital in Hanoi has dismissed two employees and censured three others involved in the selling of a large amount of dangerous medical waste, which plastic companies bought and recycled into utensils such as spoons and cups.
The management board on Wednesday confirmed the termination of Nguyen Van Tuan and Do Thi Bich Ha as employees of the infection control ward.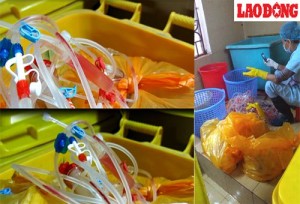 Two of their colleagues, Nguyen Huy Nam and Vuong Thanh Thuy, have also been reprimanded for their involvement.
The ward's head, Nguyen Viet Hung, was officially rebuked for mismanagement. He will not receive any bonuses and rewards for the next six months.
Earlier, Hung took responsibility after local media uncovered the illegal, unsafe medical waste treatment process at the hospital.
According to media reports, tens of tons of medical waste have not been treated properly and have instead been sold to recycling facilities for recycling in Hanoi. These facilities make plastic cups, spoons and other household products.
Website:                                        www.thanhniennews.com