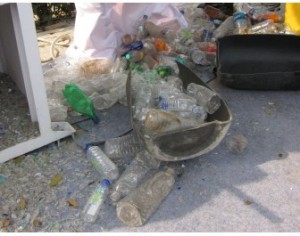 The European Commission has recently published a Green Paper on plastic waste to launch a structured discussion about how to make plastic products more sustainable throughout their life cycle and reduce the impact of plastic waste on the environment. The current EU environmental legislation doesn't specifically address the particular challenges posed by plastic waste. The Green Paper aims to collect facts and stakeholders' views on the impacts of plastic waste and a way of mitigating them through a European strategy.
The Green Paper underlines the key role that plastic plays in many industrial processes and applications, and the potential economic gains of higher recycling rates. To speed this change, better framework conditions are needed to support eco-design and environmental innovation, with waste prevention and recycling factored in to the design of plastic products, says the EU.
The consultation consists of 26 questions and will last until end of May 2013. The result will feed into further policy action in 2014 as part of a broader waste policy review, which will look in particular at the existing targets for waste recovery and landfill as well as an ex-post evaluation of five directives covering various waste streams.
Environment Commissioner Janez Potočnik said, "Managing plastic waste is a major challenge in terms of environmental protection, but it's also a huge opportunity for resource efficiency. In a circular economy where high recycling rates offer solutions to material scarcity, I believe plastic has a future. I invite all stakeholders to participate in this process of reflection on how to make plastic part of the solution rather than the problem."
"Plastics Recyclers Europe (EuPR) welcomes the Green Paper on Plastics Waste in the Environment," Ton Emans, President of EuPR comments, "The policy options investigated by the Commission are the most appropriate ones to reduce the impact of plastics waste on the environment." He added that a landfill ban, specific plastics waste recycling targets and eco-design are great solutions to increase recycling and these policies will increase Europe's resource efficiency, create green jobs and reduce our environmental impact. According to EU, worldwide plastic production has increased from 1.5 million tons per year in 1950 to 245 million tons in 2008.
Source: http://www.adsalecprj.com/Publicity/MarketNews/lang-eng/article-67003268/Article.aspx