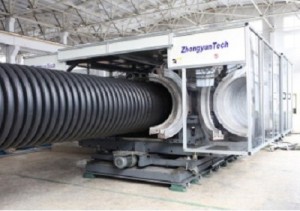 Zhongyun Group, a Chinese company specialized in production of wind generator, plastic extrusion machinery and precision casting, will promote its extrusion systems for plastic pipes at CHINAPLAS 2013.
The group has successfully marketed series of PE/PP double wall corrugated pipe extrusion line with large diameters from 100-2,400mm. Adopting the latest developed mold blocks cooling solution, the all new high performance PE/PP double wall corrugated pipe extrusion line makes the pressurized cooling water inject into the sealed mold blocks and circulate at a high speed so as to realize a fast and high efficient cooling of mold blocks, resulting in enhanced output.
For its DN/ID400mm, the production speed can reach 2m/min, which is three times of general double wall corrugated pipe line. According to Zhongyun, the electricity consumption for per meter of pipe becomes lower, decreasing by 50% at most.
The all new innovative structure design of the corrugator combining with standardized design of mold blocks, so that the mold blocks on different models of production lines can be interchanged completely, thereby lowering the costs of investment yet increasing production flexibility.Zhongyun adds that the clasp style rapid assembly technology of mold blocks greatly decreases the workload and complicacy of changing mold block sizes.
source: http://www.adsalecprj.com/Publicity/MarketNews/lang-eng/article-67004841/Article.aspx