ELKHART, Ind. – Indiana, that supplies the architectural and industrial markets, as well as RVs.
Parkland, like Patrick Industries, is a key supplier to the recreational vehicle industry, a segment that is currently booming as a result of low gas prices and high employement.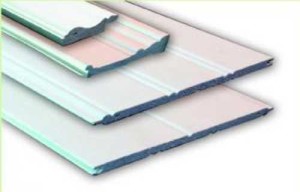 Founded by Charles Yoder, Parkland Industries is a fully integrated designer, green manufacturer and distributor of innovative polymer-based products including wall panels, lay-in ceiling panels, coated and rolled floors, protective moulding, and adhesives and accessories, in the architectural and industrial markets.
Parkland's 2015 revenues were approximately $30 million and the Company expects the acquisition to be immediately accretive to 2016 net income per share. The net purchase price for Parkland was approximately $25 million.
"The acquisition of Parkland provides us the opportunity to enter into a new product space," said Todd Cleveland, CEO of Patrick. He highlighted Parkland's focus on delivering value added product lines to RV and building products manufacturers and distributors and big box retail customers in the architectural and other industrial end markets.
Cleveland said that Parkland is a pioneer in utilizing reclaimed polymers to engineer high-performance, non-fiberglass reinforced plastic panels that offer enhanced durability, attractive aesthetics and competitive pricing versus the traditional materials used in ceiling, wall and flooring product applications.
"Parkland's strong market position in both the RV and industrial markets, and reputation for providing industry leading products as well as design, development, customization, and specialization, enhance Patrick's growth opportunities," said Andy Nemeth, president of Patrick. "Consistent with previous acquisitions, we will support Parkland with a financial and operational foundation that will allow it to capitalize on its core competencies while preserving the creative entrepreneurial spirit that has been critical to its success."
Charles Yoder, founder of Parkland, said, "After more than 25 years in business, Parkland's exceptional team and I are excited to partner with the Patrick organization, which shares our long-term vision to be a premier innovator of polymer-based products for the industries we serve."
Parkland's 72,000 square foot facility will continue to operate on a stand-alone basis under the Parkland brand name.
Patrick Industries, Inc. manufactures component products and distributor of building products serving the recreational vehicle, manufactured housing, kitchen cabinet, office and household furniture, fixtures and commercial furnishings, marine, and other industrial markets and operates coast-to-coast through locations in 11 states.
Website:                                    www.woodworkingnetwork.com