Following the deal reached in mid-July over Iran's nuclear program and the lifting of restrictions on Iranian exports of petrochemicals, increasingly more countries are now voicing their intentions to rebuild their ties with the country's petrochemical sector, according to ChemOrbis.
Even though it is not clear when the sanctions will be lifted in practice, countries started to warm-up their relations with Iran. Germany was the first to announce its intention to strengthen ties in oil, gas and petrochemical industries with Iran beginning by exporting petrochemical products to Germany while German companies will export technology to Iran.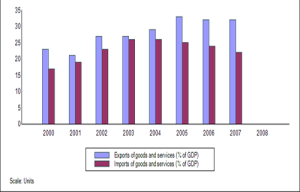 A delegation of executives from India's major energy, power and petrochemical companies also visited Tehran in order to seek out investment opportunities following the removal of economic sanctions. This was followed by visits from Italian and Japanese delegations for the same motive. Iran and Turkey also announced their plans to build a free zone near the border in order to provide multiple trade-based advantages for companies from the two countries.
Iran's current petrochemical production capacity is around 40-60 million tons per year, according to different sources, and there are official declarations to double it in the long run. Iran has recently announced its plan to launch seven petrochemical projects by the end of the current Iranian calendar year on March, 2016. Via the commissioning of the seven petrochemical projects, the country's production capacity is expected to increase by 4 million tons/year.
Iran's petrochemical exports, meanwhile, were around 17 million tons in the past year while the country exported around 12 million tons in the first quarter of the Iranian year, according to media reports. The country's main export destinations were China, Southeast Asia, Turkey, Central Asian and African countries. Following the lifting of the sanctions completely, the country is expected to export more, particularly to Europe, and gain more prominence in the overall petrochemical industry in line with its new projects to expand its capacity.
Accordingly, the growing presence of Iran is expected to impact the pricing strategies of Middle Eastern producers in European and Mediterranean markets. The competition may become tougher, in some players' opinions, particularly during periods of price decreases given the possible supply glut from the country.
When looked at from a different perspective, the lifting of the sanctions has created some concerns in existing export destinations of Iran, particularly in Turkey, where the plastics industry heavily relies on imports. According to ChemOrbis, now that Iran is a major and nearby supplier of PP and PE for Turkey, players are wondering whether supplies from this country will be shifted to other markets as there will be more alternatives for Iran's exports in the near term.