It may be a synthetic material but it is increasingly being used to create natural-looking, high-end products
The emergence of plastics in the early 20th century heralded a new era of creativity in design. Before 1900 designers were limited to materials such as wood, stone, metal and glass, so the invention of man-made substances, such as Bakelite in 1907 and fibreglass in 1932, followed by moulded plastics in the 1950s and 1960s, created new opportunities.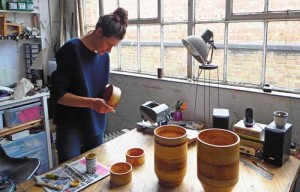 Bakelite was a defining moment. It was developed by the Belgian-US chemist Leo Baekeland in New York, who began the process by trying to find a synthetic replacement for shellac, a lacquer. He found that the material he had created did not mimic natural products but had an aesthetic of its own. Plastics evolved and came to shape the brightly coloured, curvaceous and futuristic look of the 1960s interior — typified by the distinctive S-shape Panton chair manufactured by Vitra.
Designers today are experimenting with another material. During London Design Week in September last year established names, such as British furniture maker Russell Pinch, and younger creatives, such as French designer Ariane Prin, launched products in Jesmonite — a composite material that combines plaster and cement with water-based plastic resin. "I love the fact that the material looks so natural and that it inspires questions about what it is and how it is made. People can't quite work it out," says Pinch. His Jesmonite design, called Nim, is a limited-edition circular table with a textured stone-like base and a smooth top. The hand-painted base shifts from black to white in a subtle gradation and has a tactile quality.
Swedish designer and sculptor Hilda Hellstrom, who has created brightly coloured Jesmonite urns and floor and wall tiles, has observed something similar. "Jesmonite is quite a young material and people don't have too many references when they see it," she says. "There is always the question, 'What is it, what is it made from?'"
These designers are among the first to use Jesmonite in an interiors context but it is not an entirely new material. Invented in 1984 by UK company Jesmonite as an alternative to fibreglass, it has been popular for some time with sculptors, archaeologists and palaeontologists for model making. Although interior designers are only now discovering the material, it already has a significant market in high-end architectural projects, particularly throughout the Middle East. It is also used by prop makers; Jesmonite props featured in the latest Star Wars instalment The Force Awakens.
Unlike fibreglass, which has fallen from favour due to its toxicity (it is an irritant and is likely carcinogenic), Jesmonite is safe and malleable, since it is easy to cut or carve and can also be cast. Much like plastic in composition, though not to touch, designers can also dye it, polish it and combine it with a variety of other materials.
Prin's first collection, Rust, comprises a series of bowls, vases, trays and pots that combine Jesmonite with key dust, the waste material created by locksmiths when cutting keys. "I like trying to find beauty in re-using materials that are generally discarded," says Prin. "When you add metal dust to Jesmonite and leave it, the metal rusts and colours the material. Each piece rusts differently so each piece is unique."
Prin says that working with Jesmonite is like cooking: "You can add anything you want to create different effects. When I'm working with it I use the same tools that I use in my kitchen — the mixer, the bowls — and I experiment with ingredients for fun."
Prin believes it is this versatility that is driving the material's popularity. "More people are experimenting with it because it is very versatile, and because it is water-based, it's very simple and easy to use," she says.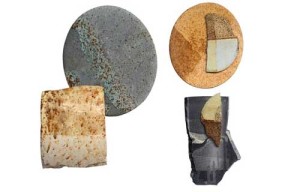 Pinch agrees. "Jesmonite is a very adaptable material," he says. "We've added mica to Nim to give a subtle sparkle and we're launching a second, metallic version of the table, using copper and Jesmonite in Milan in April this year."
Where Prin and Pinch add materials, Hellstrom adds colour pigments, creating sediment-like layers in her Rock Urns and galaxy-like swirls and star bursts in her floor and wall tiles.
Designer Stephanie Tudor has been working with the material for several years and has used to create table tops, wall panels, kitchen units and splashbacks.
"I like working with Jesmonite because once you know its boundaries it is very forgiving and you can create tactile and highly textural designs that can be applied to almost anything," she says. "Jesmonite really lets me play around and I'm excited by the possible large-scale applications of my surface designs using this material, perhaps on walls or on building exteriors."
Because Jesmonite is strong and weatherproof and can look like sandstone or marble, it is often used in place of carved stone elements on building exteriors. At one Middle Eastern palace created by Stevensons of Norwich, it was used for all the decorative architectural elements including on the Corinthian columns and friezes. Jesmonite is quicker and cheaper to work with than stone, yet it has a stately aesthetic that is associated with high-end design.
Jesmonite is interesting because it confounds the way we perceive new materials, says Hellstrom. "Some materials such as marble and stone are seen as more noble and valuable and I like that I am working with a resin-based material, a plastic essentially, which is sometimes seen as a lower value material and yet I'm making it very luxurious."
Website:                               www.ft.com