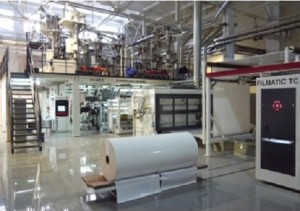 Germany-based Windmöller & Hölscher (W&H) will inform visitors to CHINAPLAS 2013 on the latest developments for their blown and cast film lines with the main focus on the FILMEX Cast film line.FILMEX is able to produce a wide range of films with high output. This modular cast film line can be individually configured to meet different needs, extruding barrier, PP, stretch or surface protection film.
The FILMEX operates on the chill-roll principle. Resin pellets are melted in the extruders. In the feed block, streams of melt converge and are subsequently spread out to a web width of up to 5m, then solidified by rapid cooling on the chill-roll. The immediate freezing results in low crystallinity of the film, leading to good optical and mechanical film properties at high output.
Capable of producing barrier film with 11 layers or up to 17 nano-layer in a special configuration, it is suitable for complex barrier film applications in, for example, food packaging. Joining multiple functional layers, the properties of the single layers are combined to achieve better overall film properties.W&H adds that FILMEX can be equipped with modules such as the patented die control PROFILE BOOSTER for quick gauge adjustment or with an encapsulation of film edges with cost effective materials in order to enhance efficiency.
Source: http://www.adsalecprj.com/Publicity/MarketNews/lang-eng/article-67004748/Article.aspx