Hofheim am Taunus, Germany– Under the banner "From Challenge to Benefit" Victrex Polymer Solutions (VPS) is presenting new applications and products based on its high-performance polymers at K 2013 in Düsseldorf. The thermoplastics help to reduce weight, energy consumption and costs in very demanding application areas which are difficult to realise with other materials. For that reason, Victrex, the worldwide leading manufacturer of polyaryletherketones (PAEK), including VICTREX® PEEK, is focusing its attention during K show on topics related to the automotive and aerospace industries along with metal replacement.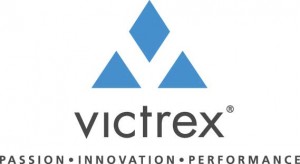 "Each new product and application development is all about identifying market trends early and taking them into account whilst facing new challenges at the same time," explains Rainer Müller, Commercial Manager Europe, with reference to the overarching motto of Victrex Polymer Solutions for K 2013. "This directly benefits OEMs and ultimately their customers, too." Although that result might sound simple enough, it takes plenty of expertise, commitment and market knowledge to achieve.
Take the aerospace industry, for example: it can take months before the most suitable material with regard to cost-benefit aspects is found, approved, and implemented as an application. Along with their unique combination of properties, PEEK polymers also score points here with their established qualifications and approvals by manufacturers such as Airbus and Boeing, system suppliers, or national and international regulatory authorities. Metals cannot be replaced in this way until such qualifications and approvals are completed. The same applies for applications involving food contact.
The latest glass fibre-reinforced product VICTREX® PEEK 90GL30BLK EU meets the current requirements of both the American and the European regulatory authorities, including the EU Commission Regulation10/2011 (Plastics Implementation Measure, PIM) which will be fully implemented by end 2015. Equipment and components marketed in the EU must comply with this regulation regardless of their country of origin or manufacture.
Response to increasingly demanding requirements
The extraordinary performance of the PAEK product portfolio extends across a broad temperature range – and also under extreme operating conditions, such as damp, chemically aggressive environments or cyclical stresses. "In that way, decisive opportunities can be developed and often make it possible to replace metals which are much heavier or to replace other polymers which are unable to stand up over the long term under the specified conditions," says Müller in the run-up to the trade fair.
Three concrete examples bear this out: VICTREX PEEK 90HMF40, which was recently qualified by Airbus, permits weight savings of up to 40% versus aluminium. The high-strength polymer is characterised by up to 100 times longer fatigue strength and up to 20% higher specific strength and stiffness as compared with aluminium 7075-T6 used in the aerospace industry under the same conditions. So broad use of the high-performance polymer is bound to reduce weight, fuel consumption and emissions.
In automotive construction, components made of VICTREX® WGTM polymers with optimised slip/friction properties extend the service life and raise the efficiency of components, including electric pumps, for example. As compared to other high-performance plastics, the friction coefficient with Victrex polymers is even lower, depending on the requirement profile, and remains stable over the life of the product. This is great news for motor vehicle manufacturers in view of extended warranty periods or the new targets for reduced CO2 emissions recently established by the EU.
In Oil and Gas production failures can be catastrophic and expensive. For more than 30 years Victrex high-performance polymers have performed reliably to deliver safe, life-extending solutions which can save millions of dollars in costly downtime and maintenance. Unlike other high performance polymers, VICTREX PEEK provides 100% greater pressure handling capability, 3 times more creep resistance and 12 times the compressive strength at elevated pressures and temperatures. VICTREX PEEK meets the escalating high-pressure high-temperature demands with innovative materials that withstand pressures up to 30,000 psi (approx. 2,000 bar), temperatures of -60°C to 260°C (-76°C to 500°F) and exposure to harsh chemicals.
Victrex – extensive experience and plant expansion in Western Europe
No matter whether developers are seeking to create smaller, higher performance components, to extend service life, or to implement lightweight solutions which help to simplify handling or reduce emissions, it is no longer possible to imagine how major industrial sectors would manage without the high-performance polymers from Victrex – branches such as the automotive, aerospace, electrical and electronics industries, along with machinery construction, medical (technology) and the oil and gas sector.
"Our customers understand the benefits which our polymers and our expertise provide for their applications, and therefore to their customers," concludes Müller. In view of the increasing demand, the polymer specialist is investing to expand its production capacity and to implement continuous process optimisations in order to ensure reliable supply of the high-performance plastic over the long term.
Every new development process benefits from the nearly 35-year experience of Victrex, the worldwide leading manufacturer of PAEK. The headquarters of the British parent company Victrex Plc. and the production facilities are located in Thornton Cleveleys, Lancashire, UK. In the VPS business unit, the other products manufactured there also include – along with VICTREX® PEEK polymer – VICTREX HTTM, STTM or WGTM as well as APTIV® films, VICOTE® coatings and VICTREX Pipes™.
In addition, the Victrex biomaterial business, Invibio, is a proven partner of medical device manufacturers and leading provider of biomaterials solutions worldwide. Invibio's PEEK-OPTIMA® family of implantable polymers, unsurpassed device component manufacturing support and comprehensive technical, processing and regulatory knowledge help medical device companies around the globe bring innovative products to market more rapidly.