Mumbai, 9th April, 2014: The Plastivision Arabia, Arabia Mold, Print Pack Arabia, and the International Conference for Plastics Conversion were jointly inaugurated on Monday by Sheikh Mohammad Bin Saud Bin Sultan Al Qassimi, Chairman of the Sharjah Department of Central Finance and Indrajit Pal, IAS, Secretary, Department of Chemicals & Petrochemicals, India.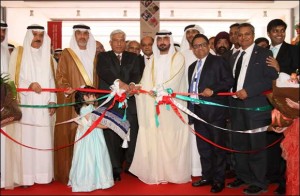 A huge number of companies from the plastics industry has descended on Sharjah to take part in the region's only multi-industry trade event at Expo Centre, and the one loud message that echoes from most participants is: "Know plastics, do not say no to plastics."
Ahmed Mohammed Al Midfa, Chairman, Sharjah Chamber of Commerce and Industry; Saif Mohammed Al Midfa, CEO, Expo Centre Sharjah and other senior government officials accompanied the dignitaries around the pavilion.
"The regional industry is driven by growing economies and supported by core sectors such as real estate, retail and new projects. A rise in marketing services and advertising also boosts the industry. The industry here is evolving continually, as packaging buyers continue to search for ways to engage with customers using innovative methods," said Saif Mohammed Al Midfa.
"Acquiring latest technologies will be key for the sector to cash in on these positive fundamentals. The Print Pack Arabia will be a comprehensive sourcing platform for printers, industry professionals, buyers and design agencies," he added.
The growth opportunity for the Indian plastics industry in the UAE is robust, says Jayesh K. Rambhia, Chairman of Plastivision Arabia 2014 and representative of the All-India Plastics Manufacturers' Association. Insisting that plastic is not an enemy of the environment, Rambhia says it is all about how it is disposed of and recycled that decides the ecological impact. "Plastics reduces the weight of packaging and saves fuel. Plastic replication system saves 90 percent water. In fact, a plastic in healthcare saves health. Everywhere there is plastic."
Though "Say no to plastics" is a slogan imported from America, the US itself uses 100kg plastic per head per year, argues Rambhia. While India is using only 8kg, the Gulf average is said to be 25kg. "Instead of saying no to plastics, know plastics, use it well, dispose of responsibly and grow economically."
Rambhia says even in countries like Germany, Japan and US, it is not banned. "In Germany, there is zero wastage thanks to stringent rules.Print Pack Arabia is featuring more than 70 exhibitors, apart from two special pavilions from India and China and a knowledge-sharing platform through the Technical Seminars.
Experts point out that constantly evolving market trends and continually evolving technology are some of the challenges facing the industry across the world. At the same time, the potential of print is broadening, as packaging companies are beginning to realise the benefits on offer in terms of personalisation, customer engagement and integration with online campaigns.
Keeping the requirements of the industry, Print Pack Arabia is featuring technological innovations, designs and products in the field, and exchange technological know-how and expertise, offering competitive prices and top-quality services from a wide range of regional and international distributors and manufacturers.
The Gulf Petrochemicals and Chemicals Association's PlastiCon 2014 is focusing on the growth of plastics conversion both globally and in GCC countries, offering a great opportunity for trade representatives to gain insights into challenges and developments facing conversion today.
The GCC plastics industry celebrated the winners of the GPCA Plastics Excellence Awards 2014, an initiative of the Gulf Petrochemicals & Chemicals Association ( GPCA ) yesterday.The awards, sponsored by Sabic, aim to stimulate and reward excellence, creativity and environmental sustainability practices in the GCC's plastics conversion industry.
The winners were honoured at a gala dinner held as part of the 5th International Conference for Plastic Conversion (PlastiCon 2014), taking place at Expo Centre Sharjah.
"With plastics being an ideal packaging material for all sorts of commercial and industrial users, the introduction of Print Pack Arabia will give a new dimension to Plastivision Arabia & Arabia Mold," Midfa added.
Arabia Mold, together with its concurrent Plastivision Arabia, made great impact in the region right with its launch edition in 2012. Arabia Mold also left its mark as a premier international trade fair for mold-making, tooling, design and application development that the regional industry can rely on for all their requirements. Arabia Mold, received a record number of pre-registered visitors, excellent exhibitor response and good visitor turnout. The success can be attributed to the robust demand from core sectors such as medical & pharmaceutical, plastic packaging, building materials, pipeline and the manufacturing & industrial segments. Arabia Mold 2014 will build on the success of the launch edition and aim to cater to the rising demands from regional economies, while cementing its position as a dedicated platform for the regional industry.
Together, the three trade fairs are targeting the plastics, mold-making, printing and packaging industries and are featuring more than 250 exhibitors from across the world, covering a wide spectrum of industries critical to the region.
www.plastivisionarabia.eu