In Southeast Asia, import and local PVC markets have been on a soft note with April deals settling with decreases month over month as per the pricing service of ChemOrbis. The softening trend was mainly triggered by discouraging demand from buyers, most of whom had sufficient inventories in line with muted end product markets. These markets may face renewed pressure from Chinese acetylene based PVC now that India has announced higher anti-dumping duties on this product, which could push more of these cargoes to Southeast Asia.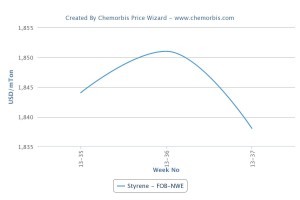 PVC suppliers are generally not so optimistic about the short-term demand outlook in Southeast Asia. They are waiting to hear new prices of a Taiwanese major for May shipment cargos before making any adjustments on their own prices.
A Chinese PVC producer, who offers to the region, is planning to lower their operating rates to avoid sales pressure and control oversupply. "We don't foresee an encouraging outlook over the short term as local PVC demand in the country is yet to show any signals of a recovery. We might shift our focus to the Southeast Asian markets as we will be unable to compete against other origins in India following higher anti-dumping duties. We don't think that PVC prices may turn up before May," a producer source said. Similarly, a second Chinese producer reported that they will focus more on Southeast Asia's market after new anti-dumping duty regulations in India. "We didn't make any price adjustments as we will wait to see the market direction. The local demand is stable while futures prices keep firming," said a producer source.
A source at an Indonesian producer stated, "Buyers are still expecting to see lower prices while they monitor the market to catch an indication for May." A Japanese producer, meanwhile, highlighted that although India reduced the anti-dumping duty on Japanese PVC, high freight rates to India may keep China as their primary market.
A Vietnamese PVC maker maintained prices, but admitted that local demand is slow. "We believe that PVC prices still have some room to move down since VCM costs didn't gain much," a producer source noted. A Malaysian producer has been keeping their plant offline since late March owing to technical issues but plans to resume production soon. "We expect the trend to remain soft in the upcoming month based on the possibility that the Chinese market may remain weak in the near term," a source at the producer mentioned.
A converter in Malaysia noted, "Local prices will most probably lose further ground in the near term as demand is still not encouraging. We believe that China will face great sales pressure and oversupply as their domestic demand is not great. We think prices will be under downwards pressure unless demand picks up as large quantities of Chinese material will have nowhere to go except to Southeast Asia and their own domestic market," he commented. Their end business slightly improved but they still keep their purchases in check waiting for another round of price reductions, he added. A second buyer in Malaysia was in no hurry to buy due to his comfortable stocks despite softer local offers. Another one claimed to be covered until end April or early May.
According to ChemOrbis, a compounder in Indonesia said, "We are purchasing only our needs since end product demand is very slow and the global trend is for softening." A buyer in Vietnam received a lower April offer from a local supplier and said, "We only buy small amounts of PVC to sustain our production as pipe demand is poor due to the weak property market." A trader confirmed weak demand in Vietnam, adding, "We receive lower bids from our current offers from most buyers."