AMI Consulting, Bristol, 10/04/2014– According to a recently published study by leading industry consultants, Applied Market Information Ltd (AMI Consulting), the artificial turf market is once again enjoying robust growth. The report's editor John Nash says that "Artificial turf meets an increasing range of market needs by offering products designed for specific segments at prices which customers find attractive".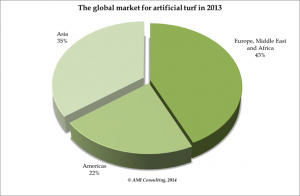 Product development has seen artificial grass significantly improve its technical performance and its reputation. The unforgiving surfaces that once caused friction burns and impact injuries are now a thing of the past and in their place are fields with controlled slide and defined energy restitution. Players, particularly younger ones, frequently prefer playing on artificial grass. The sport's governing bodies which had once regarded artificial turf with a degree of scepticism are warming to its use. FIFA recommends 1580 artificial turf installations around the world. Watch field hockey on television and you are probably looking at artificial turf. It is widely used too in American football and beginning to penetrate the higher echelons of rugby union.
While the technical performance of artificial grass is attractive in a sports environment its convenience, robustness and attractive appearance is increasingly winning consumers in applications around the home.Artificial turf is a valuable proposition in many climatic circumstances ranging from where water is scarce, to where rain is so frequent that natural grass turns to mud, to snowy regions where underfloor heating guarantees playability. However it is its durability which wins most business today: the ability to withstand several hours of play per day sets it firmly apart from natural turf.
The yarns are made from PE (polyethylene), PP (polypropylene) and PA (polyamide). For coating, infill, underlay and shock pads the main materials are SB (styrene butadiene latex), SBR (styrene butadiene rubber), PU (polyurethane) and TPEs (thermoplastic elastomers).
Structural changes in the industry are causing some participants to review their strategies, which is likely to drive future M&A (mergers and acquisitions) activity. The world's largest players include the likes of TenCate Thiolon, FieldTurf Tarkett, Bonar, Co-Creation Grass and Shaw Industries (Sportexe). 'Private equity' plays a significant role in the industry investing in the likes of Polytan and Desso.