New Hub Design for Nordson BKG™ Pelletizers Accommodates Straight or Angled Blades; instead of Adding Throughput, Users Can Reduce RPM to Extend Die Plate and Blade Life
MÜNSTER, GERMANY, February 23, 2015: New-design cutter hubs and blades for Nordson BKG™ underwater pelletizers increase throughput, improve transportation of pellets from the cutting area, simplify cutter assembly, and provide new options for reducing wear to die plates and blades, it was announced today by Nordson Corporation, which will display the components at NPE2015 (Booth W6263).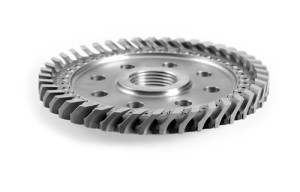 In an underwater pelletizer, the cutter hub and blade assembly produces pellets from polymer as it exits the holes in the die by rotating rapidly against the die face, with blades mounted at angles to the face of either 45 degrees ("angled") or 90 degrees ("straight"). The new design increases throughput by accommodating up to 100% more angled blades per hub (36 instead of 18) or 54% more straight blades (40 instead of 26). As an alternative to increased throughput, the operator can reduce pelletizer RPM, maintaining standard throughput while reducing wear to die plate and blades.
Nordson carried out the redesign using the same metal as in the standard hubs and blades but employing a casting process rather than machining the metal, according to Adam Cowart, global product manager. "Besides making possible an increase in the maximum number of blades, our new manufacturing method has enabled us to increase the space between the blades, reduce the volume of the cutter hub assembly, and use countersunk fasteners for mounting the blades to the hub," said Mr. Cowart. "As a result, there is improved transportation of the pellets, which enhances efficiency, improves pellet formation, and is particularly beneficial for producing micropellets [pellets with diameters less than 1 mm]."
The redesign also makes it possible for the first time to use the same hub for accommodating either angled or straight blades, providing new versatility for users who run multiple materials.
"The new-design hub and blades can be used on any Nordson BKG underwater pelletizer with throughputs from 1,000 all the way to 35,000 kilograms per hour," said Mr. Cowart. "While it is too early to quantify the range of throughput increases that the redesign makes possible, we do expect that the new cutter assembly will enhance productivity for our customers or in some cases even extend the applicability of smaller pelletizers."
Website: www.nordson.com