Hockenheim, 22 October 2013 – PermaSafe®, the innovative plastic solution for sterilized and pasteurized foods developed by the Weidenhammer Packaging Group (WPG), continues to gain a strong foothold in the market. In the next few weeks, two new products will be available in PermaSafe® packaging: Mr. Fix, ready-made meals from Eifeler Fleischwaren, and pickled sprats from JSC Brivais Vilnis. Once again, the new plastic packaging solutions present a diversity of design options for preserved products. While the Mr. Fix container attracts attention with a striking wraparound label, the new fish packaging wins over consumers with a clear view of the product inside. Both solutions offer maximum convenience and outstanding product protection.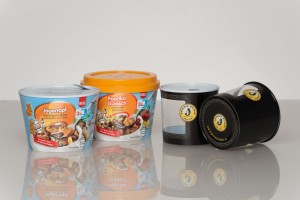 PermaSafe® products are attractively designed, lightweight and extremely durable. With its "reinvention of the can", Weidenhammer Plastic Packaging (WPP), the WPG plastics division, makes the benefits of plastic packaging available for the processed foods industry. "PermaSafe® fills a gap in the market. It is an extremely modern, secure and practical alternative for sterilized and pasteurized food," explains Andreas Rothschink, Sales Director at WPP. "With our solution, food manufacturers can increase sales by making their products stand out from the competition at the point of sale."
Cup design whets consumer appetites
A growing number of food manufacturers are using the advantages of packaging manufactured by WPP to improve the positioning of their products at the point of sale. WPP recently developed a PermaSafe® container with an appetizing, photo-realistic wraparound label for Eifeler Fleischwaren meat products. The In-Mould Labelling (IML) process highlights the finest details. Packaging production and labelling are completed in a single process. The ready-to-eat product comes in a 380-gram container and is available in five varieties: chicken & rice, cheese & leek, paprika goulash, ground meat & noodles, and beef stew.
The packaging meets the highest standards when it comes to design and product protection. An easy to remove Peel-off Top seals the product contents, making the container gastight. A yellow snap-on lid ensures that the packaging can be resealed and is easy to open every time, so the consumer can eat the ready-made meal in portions. Since PermaSafe® packaging can be easily heated in the microwave, the product can be enjoyed directly from the container.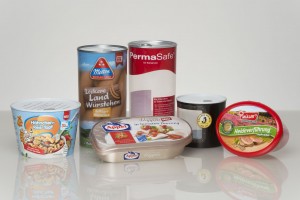 Trend towards transparency
The new packaging solution for JSC Brivais Vilnis, a Latvian fish company, ensures maximum product protection and convenience in a brand new design concept. "See-through packaging for fish and seafood is popular in Eastern European markets," explains Rothschink. "We worked directly with the customer and opted for transparent PermaSafe® packaging." The container has a "porthole" that gives the consumer a clear view of the product. An easy-open, Peel-off Top makes the packaging gastight – which is essential to preserve product freshness.
This is the first plastic packaging produced by WPG specifically for the Latvian market. Since the market for sprat is highly competitive in Eastern Europe, the packaging specialists had to create something truly unique. "Our solution is based on historical sprat packaging," says Rothschink describing the transparent, 7-cm high container. "Not only does the packaging stand out from the mass of products on the shelf, consumers directly associate this kind of packaging with high quality."