In cooperation with machinery supplier Nissei ASB GmbH in Germany, UK packaging solutions provider APPE has launched a new PET jar capable of hot-fill and/or pasteurization up to 95°C.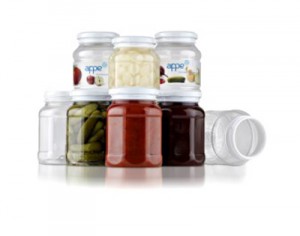 APPE says its new ThermaLite jar is up to 85% lighter than glass equivalents with a smaller footprint, delivering huge savings in transport costs both before and after filling. It also uses less energy during the filling process, as well as reducing noise levels and avoiding the risk of breakages on the line. It is currently available in six sizes from 370-720ml in round and octagonal designs, with further shapes and sizes in development.
The lightweight shatterproof construction offers safety and convenience throughout the supply chain and in the home, the company emphasizes. For consumers, it provides easy handling and pouring, and its standard metal twist-off closure ensures easy opening and closing. The jar is also fully recyclable.
In retail markets, the clarity of the PET creates on-shelf impact for a wide range of products including cooking sauces, pesto, tomato-based products, pickled vegetables, relishes chutneys, and fruit purées, jams and spreads. Due to the jar's smaller footprint compared to glass, more units can be incorporated into the same shelf space, while its shatter-resistance offers new opportunities for product placement, for example inside the chill cabinets.
"Our new ThermaLite jar is a real breakthrough providing for the first time in a pasteurisable format, the clarity usually associated with glass with the lightweight and consumer convenience benefits of plastics," comments Mike Hanratty, APPE's Business Development Director. "Equally important, its energy and transport savings also make a valuable contribution to the reduction of companies' carbon footprints and logistical costs." The ThermaLite jar was named as one of Spain's top 100 ideas by Actualidad Económica magazine.
Source:  www.adsalecprj.com/Publicity/MarketNews/lang-eng/article-67007292/Article.aspx