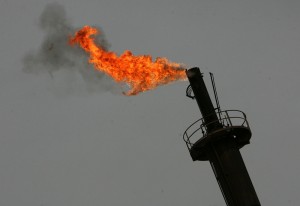 * CEO sees decision this year on new plant or joint venture
* Cost of crude oil-based feedstock hurting profitability
* Profit fell 50 percent in Q1; shares hit four-month low
By Carolina Marcondes and Brad Haynes
SAO PAULO, May 10 (Reuters) – Brazilian petrochemicals company Braskem is looking to switch its U.S. polypropylene plants onto feedstock from shale gas as the cost of crude oil derivatives hurts profits.
Chief Executive Carlos Fadigas said on Thursday the company is nearing a decision on whether to build its own plant processing propane from natural gas or form a joint venture with a guarantee to buy the project's output.
"The decision should be made this year," Fadigas told reporters at a press conference to discuss first-quarter results, declining to estimate the possible investment.
Braskem, the largest petrochemicals company in Latin America, posted a 50 percent drop in quarterly profit on Thursday, due to weak global demand for its plastic resin products and high prices for its crude-based raw materials.
A rocky economic outlook in Europe and weak recovery in the United States has weighed on plastics prices, while unrest in the Middle East bolstered crude prices, squeezing profits for petrochemical processors like Braskem.
The company's net income fell to 152 million reais ($77 million) in the first quarter, according to a securities filing.
Braskem shares dropped 4.7 percent in Sao Paulo trade to a four-month low on the results.
First-quarter earnings before interest, taxes, depreciation and amortization, a gauge of operating profit known as EBITDA, fell 14 percent from a year earlier to 787 million reais. EBITDA as a share of net revenue, a measure of profitability known as the EBITDA margin, slipped 2.9 percentage points to 9.6 percent.
Braskem bought Dow Chemical's polypropylene business last year for $340 million, expanding its U.S. presence and expanding possibilities for feedstocks other than the costly crude-based naphtha.
Source  : reuters.com