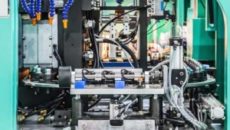 A major European molder (unnamed) recently installed a two-platen injection machine with 2750-ton clamp and shot capacity of 120 liters.
The machine is being used to mold PP components for accessible sewer manholes up to 1 meter diam. The modular structure consists of an entrance cone, shaft ring, and shaft bottom, frequently adding up to an overall height of several meters.
The shaft bottom alone weighs 62 kg (136.4 lb). The model SRM machine comes from Ettlinger Kunststoffmaschinen GmbH of Germany (U.S. office in Tyrone, Ga.). This is a two-platen press with two-stage, screw/plunger injection unit that is said to handle recycle as well as virgin plastics.
One unusual feature of the machine is the circular frame mounted on the fixed platen for holding core pulls. The core pulls specific to each mold can be positioned on the platen very flexibly and are now an integral part of the machine. Separate pullers are no longer required on the mold itself, which reduces the tool cost.
Because the sewer manhole parts require relatively long cycles, the SRM press saves energy by switching the hydraulic pump to standby during the cooling phase; the pump soft-starts again when the mold is ready to open.
The two-stage injection system is also said to allow for smaller components and drives, contributing to 60% energy savings over conventional presses of similar capacity, Ettlinger says. Lower injection and clamping pressures reportedly allow use of economical molds made partly of aluminum, even with very high shot weights. Ettlinger will exhibit at K 2016 next month in Dusseldorf.
Website:www.ptonline.com