Since its invention plastic has always been a matter of discussion not only for the government but common people and industrialists as well. When we talk about the merits of plastic it is one of the most convenient materials that we usually use. However, one of the demerits that make plastic a matter of controversy around the world is its negative impact on the environment and specially Marine Ecosystem.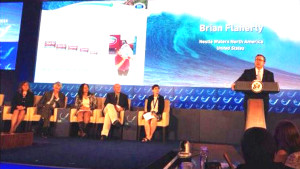 In an attempt to discuss all the issues related to plastics and plastics technology two-day crash course in ocean protection hosted by the U.S. State Department in Washington and Secretary of State John Kerry hosted two-day course in ocean protection.
Some of the glimpses of the meeting were:
"Why do we use so much plastic? Well, because it's great!" said Daniella Dimitrova Russo, CEO of Think Beyond Plastic. The problem with plastic, she said, is that the essential properties that make plastic such a versatile and desirable material in so many applications become design flaws when it comes to the sea, particularly its lightweight nature and its chemical effects.
"Plastic lasts forever," Russo said. "Yet we increasingly use it to make single-use products." Exponential growth in plastics processing since the 1950s has not come with an end-of-life plan for the products, she said, a problem that extends well beyond the United States.
Nestle Waters is moving from the "source to shelf" responsibility view to a "cradle to cradle approach," Flaherty said, starting with container design and light weighting and eventually implementing market-based recycling, which would include the cost of recycling in the price of their bottled water. The company's ZephyrHills brand, which sources its water from Florida, has made an agreement with organizations In Tampa Bay to conduct an eight-month cleanup and education program for the area, Flaherty announced in D.C.
In the meeting Actor and philanthropist Leonardo DiCaprio pledged $7 million over the next two years for marine protection projects under the DiCaprio Foundation banner. President Barack Obama, in a video message to the more than 400 attendees, launched a new effort to protect U.S. marine landscapes, including expanding the Pacific Remote Islands National Marine Monument and nominating marine sanctuaries off U.S. coasts and in the Great Lakes. The president is also directing federal agencies to develop a comprehensive program for combating seafood fraud and the black-market fish trade.
The biggest take-way of the meeting was to use plastics consciously and in a matter that could help these industry players use it economically.