Under balanced market conditions, Turkey should be priced above China, carrying some premium due to freight differences and the relatively smaller size of the Turkish market with respect to China, according to ChemOrbis. Recently, this premium appears to have been eroded for most PE products since current Middle East offers to China are almost at par with the prevailing offer levels in Turkey.
August PE prices have been revealed with price increases globally on the back of rising crude oil, naphtha and ethylene costs. Players in many different parts of the world also report tight availability for LDPE, which also provided ground for price hikes. Nevertheless, the Turkish and Chinese PE markets have moved out of balance as current offer levels from the Middle East to these two countries are almost identical. Players attribute this lost premium to slow demand.
As can be seen from the graph below, average import HDPE film prices in Turkey have been gradually losing their premium over China since early June. Now that August PE prices have been revealed higher to China and the Turkish HDPE market remains under pressure from relatively competitive Iranian cargoes, the price difference between two countries has narrowed considerably.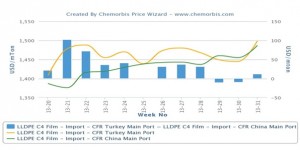 In the case of LLDPE film, the past two months have been more dramatic. Since June, the premium Turkey carries over China has shrunk gradually while China's LLDPE import market even traded above Turkey during some weeks. As has been the case in HDPE film, competitively priced Iranian cargoes have put pressure on regular Middle Eastern sources and caused the overall import range to come down for almost a month.
According to ChemOrbis, this factor clearly shows the upward pressure on the Turkish PE market in order for these two markets to move back into balance. However, players generally argue that large price hikes are not deemed to be easily achievable given persistently poor demand in Turkey.