KraussMaffei will present its advancements in high pressure Resin Transfer Molding (RTM) technology in the mold and trimming technology areas at the forthcoming Composites Europe trade show.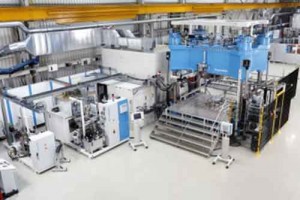 Market studies predict double-digit market growth for fiber-reinforced plastics in coming years, primarily due to demand from the automotive, aviation and wind energy industries. For these applications, KraussMaffei offers machine and mold technology with FiberForm, Long Fiber Injection (LFI) and RTM as well as special solutions for lightweight components.
"The increasing number of orders we are receiving makes it clear that the market volume for carbon fiber-reinforced components is growing continuously," says Erich Fries, Head of the Composites/Surfaces Business Unit of the Reaction Process Machinery segment at KraussMaffei. "The legal regulations and discussions about CO2 emissions and sustainability are supporting the positive trend."
Together with partners Dieffenbacher GmbH, the Technical University of Munich and the Fraunhofer ICT, KraussMaffei says it is capable of implementing the entire turnkey process chain, from unwinding the semi-finished textile material such as a carbon-fiber reinforced plastic fabric, to final machining of the finished fiber composite component.
As part of this group, KraussMaffei supplies the metering technology, including mixing head, mold technology, and solutions for cutting the finished component. Dieffenbacher provides the components for preforming the fiber mats and the press technology.
According to KraussMaffei, its metering system for processing highly reactive resins, such as epoxy, PU or PA, enables very short cycle times. It features a special vacuum-assisted tank system and a high-precision, energy-efficient temperature control with constant operating point.
The high pressure RTM molds are also heat-balanced and have a special seal system that enables resin injections with up to 100 bar of mold cavity pressure. Sophisticated integrated sensors monitor and regulate optimum filling of the mold. The self-cleaning mixing head system for resin injection enables an accurate and reproducible feed of internal release agents.
KraussMaffei post-mold processing centers are used at the end of the process chain. These mobile, robust and compact machining cells feature short cycle times and high repeatability. Additional peripheral tool and handling units can be added to create a complete system.
Composites Europe will be held in Stuttgart, Germany from September 17-19.
Source:  www.adsalecprj.com/Publicity/MarketNews/lang-eng/article-67006911/Article.aspx