At Fakuma 2014, the Frimo Group has announced two new design sizes to its portfolio of standardized infrared welding systems in the JoinLine IR model series.
In addition to the IR-V-ECO-1200 with a maximum clamping surface of 1,200x600mm, the range now includes a JoinLine IR-V-ECO-800 (800x450mm.) The ECO 800 can be equipped with up to 24 heating circuits, while the 1200 model can accommodate up to 48. Frimo said these two models help close the gap between its 500 and 1600 models.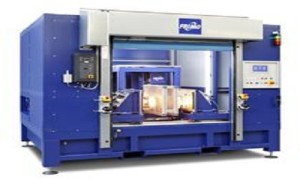 Extrusion blow-molded components in particular, such as gas or liquid-conducting systems, often show tolerances considerably higher than would otherwise be expected in the injection molding field.
With its tolerance compensation system, Frimo said pipes like this can be precision-welded at a constant welding depth, regardless of the parts involved. For example, for a two-part interchangeable tool, the first component (upper and lower part) is brought together until they touch using motorized servo drives with minimal force. The PLC stores the reference point determined in this case.
The next step involves the second component also moving to this reference point using the internal tool tolerance compensation system. Accordingly, both components are referenced before the joining process and any possible tolerances between the components are compensated for accordingly.
To ensure complete documentation, the infrared JoinLine IR series welding machines can be equipped with compact infrared camera system including up to four cameras. They are used to monitor the required temperature distribution of the components to be joined, post-heating and pre-joining. The cameras installed come with 336×256 pixels as standard, which equates to over 86,000 temperature measuring points on the component.
According to Frimo, these cameras are built with temperature image processing, analysis process as well as image acquisition functions, additional computer and software is not required.