The decreasing trend that has been in place since early September has gained speed recently in China's polyolefin markets as per the pricing service of ChemOrbis. The import PP market has touched the lowest levels of more than 4 years this week, feeling extra pressure from new coal-based capacities. PE, on the other hand, has faced less sharp decreases, retreating back to the levels last seen in mid-2012.
A similar downturn has been visible in Turkey's polyolefin markets since mid-August. However, the decreases in Turkey over the past two weeks were not as noteworthy as they were in China. This situation has caused the gap between Turkey and China to widen to as much as $120/ton in the PP and PE markets based on average ChemOrbis Price Index.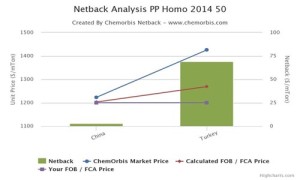 A trader informed, "In terms of prices, our Saudi Arabian supplier claims to be seeing a relatively better situation in Turkey than in China, where it is becoming really hard to set a price." Netback based calculations also confirm this comment, showing more room for Middle-Eastern prices to come down, particularly for PP.
An estimated export PP price from the Middle East is found by taking the Middle East range in China into account and deducting a $20/ton freight rate to bring the material back to the Middle East. Based on this calculated export price, Turkey appears to be providing a much healthier margin than China for Middle Eastern PP sellers after adding related freight rates of around $20/ton to China and $70/ton to Turkey, as can be seen from the graph below prepared by ChemOrbis Netback Analysis Tool.
According to ChemOrbis, as for PE, Turkey is again offering better margins to Middle Eastern sellers based on the netback analysis. As can be seen from the second graph below, Middle Eastern sellers are able to benefit from larger margins in Turkey due to the relatively higher prices in this country when compared to China.