ROCHESTER, IL (December 8, 2014) – The need to use costly silicone gaskets or insert them into housings are no longer required with 2-shot STK thermoplastic elastomers from Elastocon TPE Technologies, Inc.
Developed expressly with high flow properties in a wide range of hardnesses – 40 Shore A to 90 Shore A – the new rubbery material for improved housings and gaskets can be overmolded, twin shot molded or coextruded in a single operation.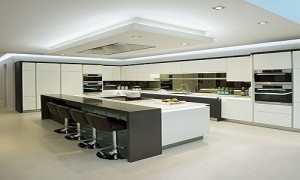 The net results arelarge or small products with improved, and less costly, benefits than silicone or other materials, plus eliminating the need to physically or mechanically insert one part into another, i.e. less handling during the production process. The manufacturer notes the new TPE offers great colorability plus has excellent bonding characteristics.
Suggested applications from Elastocon include seals or gaskets for lighting assemblies as well as buttons or knobs for appliances.
Special properties and benefits of the new TPEs include:
• high flow properties for use in complex parts
• high impact resistance
• good surface finish with excellent high impact resistance
• resistant to most household cleaning products
• easilyovermolds onto numerous substrates, among them PC, ABS, PC/ABS, acrylic, PBT, PS, PP, PE, copolyester and polyamides
Elastocon® offers high performance TPE solutions that are innovative and robust, designed to meet the toughest requirements of modern TPE designs. They are offered in seven product families: unfilled, filled, super clear, TPOs, oil free for medical use, flame retardant and special colorable ESD formulations.
For more information on the new line of TPEs,
contact Marketing Department
Elastocon TPE Technologies, Inc.
P.O. Box 463, Rochester, IL 62563.
Tel: 1-888-644-8732. Fax: 217-498-8558.
E-mail: [email protected]
Web: www.elastocontpe.com.