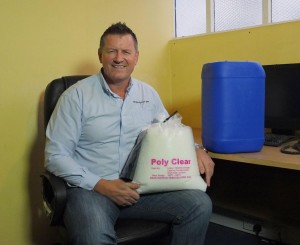 Aquapurge has launched a new purging compound, targeting the global blowmolding sector. John Steadman, technical director for Aquapurge, said that the company's Poly Clear HMEX is "by far the most universal and most effective purging compound that Aquapurge has developed for both continuous and accumulator blowmolding of polyolefins."
Aquapurge has been creating purging compounds for the plastics processing industry for the past 19 years. More than 140 compounds have been developed to date. Aquapurge's available capacity currently stands at 15,000 tonnes of compound per year.
The company said that plastic blowmolding container applications are set to see immediate benefits from the Poly Clear HMEX such as saving downtime, material cost and color contamination. Aquapurge's scrubber freeze compound is still recommended for those in PVC blowmolding. Aquapurge believes that many blowmolders are losing time and money by not purging their equipment; simply running color or tool changes through to clear for the next job; producing customer orders to an 'ideal' color schedule; and scheduling tool changes simply to match the color running at that time.
"These are common practices," Steadman said. "It can actually devalue the whole production process, decrease machine utilization and also the value of polymers used."
The company claims that the practice of machine purging gives suppliers an opportunity to flex with market demand. A company that is enabled to quickly purge its machines can avoid losing business by having to make new customers wait in line.
"Without purging, new business has to wait on the existing schedule," Steadman said.
Aquapurge research notes that the majority of blowmolding work on a high-volume and small-margin basis. In addition, increasing Just In Time (JIT) requirements places extra demands on their capabilities.
Poly Clear HMEX is intended to insure and protect against any production disruptions that can harm the profitability of each order.
"The accumulator blowmolding process is sensitive to inherent hold-up points in all head designs and, over time, can contribute to black specking and loosened or degraded polymer or masterbatch," Steadman said. "At Aquapurge, we question the practice of taking a risk with all these factors – and Poly Clear HMEX is our solution."
Source: http://www.plasticstoday.com/articles/Aquapurge-develops-purging-compound-for-blowmolders0408201301%20