Total specifically developed XSene 55060, a unique bimodal high density polyethylene, as a direct response to the demands of the Industrial Packaging market.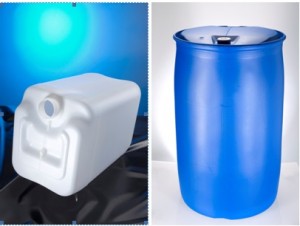 Based on Total's proprietary XSene technology, the next generation 55060 was specifically designed to offer increased rigidity and therefore to reduce weight, without compromising the performance of the end product.
AST Kunststoffverarbeitung GmbH, a producer of plastic containers and drums for the chemical, oil and food industry, approached Total to increase its product range to meet the demands of the chemical industry. Total proposed XSene 55060.
"Our range of products currently includes PE drums from 5 to 60 litres and open top drums of 120, 150 and 220 litres" commented Dirk Strohmann, AST. "Our success depends on our ability to offer a range of products with high and consistent quality and competent service. By using XSene 55060, we were able to provide our customers with better performing products. At the same time it expanded the type of materials they could transport."
XSene 55060 is an advance in downgauging for the industrial packaging market and meets the industry need for easier processing, higher performances, and lighter weight solutions. It also offers the advantage of increased sustainability thanks to the reduction in raw materials use and lower extrusion temperatures.
Total's advanced dual loop technology enables versatility in product design, bringing a combination of improved product qualities. These include excellent and consistent processing on standard extrusion lines, cycle time reduction and potentially lower extrusion temperatures. The outstanding Stress Crack resistance offers excellent resistance to aggressive chemicals and allows downgauging up to 10% versus comparative materials.
"We see ourselves as pioneers in the way we work closely with our customers to add value and help them to improve their production process. Our relationship with AST is built on this type of forward thinking," says Veerle Naets, Business Manager Technical Parts & Consumer Goods, Total. "And now we are looking beyond this latest project to explore the next generation of PE, targeting the replacement of metal packaging, which today, is still required for some aggressive chemicals. The ability to transport even more aggressive chemicals in plastic packaging provides our customers with more opportunities for profitable growth."
Read more abut :www.total.com