TOMRA Sorting Solutions, a supplier of sensor-based technologies for sorting, peeling and process analytics, has introduced the new generation Genius optical sorter which sorts materials at up to 10 tons/hour (t/h) and resolution as high as 100 microns.
The product is fed via a hopper system onto a high speed transport belt, where it is scanned consecutively by color cameras and lasers on-belt, plus top and bottom monochrome high resolution cameras off-belt.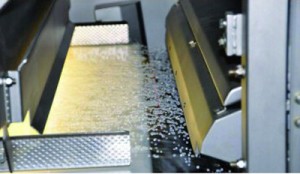 Pieter Willems, TOMRA Sorting's Market Unit Manager for raw materials, explained, "The Genius optical sorter's powerful combination of detection methods allows the selection of multiple potential sorting parameters. Defects identified by the system are removed with high accuracy through electronically controlled air blasts from a row of narrow, individually controlled valves, guaranteeing perfect defect removal and minimal good product loss."
The Genius high resolution sorter can be used in off-line, as well as in-line applications and tackles almost any sorting problem in the polymer pellet industry. These include the removal of specks and materials which are off-color, misshapen, cloudy, bubbled or dimpled. The company says it is user-friendly, demands only low maintenance, is modular and upgradeable.
TOMRA Sorting also offers a solution for in-line synthetic rubber crumb and plastics pellets sorting. Synthetic rubber defects identified by the system, such as gels, wet spots and discolorations, can be removed accurately, guaranteeing high quality defect removal and minimal good product loss. The different combination of detection methods, including laser scanners, cameras and spectroscopy, allows users to select multiple potential sorting parameters.
TOMRA Sorting will demonstrate its virgin and recycled plastics, as well as rubber sorting applications, at K 2013 from October 16-23 in Düsseldorf, Germany.
Source: www.adsalecprj.com/Publicity/MarketNews/lang-eng/article-67007475/Article.aspx