Oakland, California – August 23, 2013 – Current modern biotechnology applications are making use of molecular biology methods and exponentially increasing the number of high-throughput experiments being conducted in labs worldwide.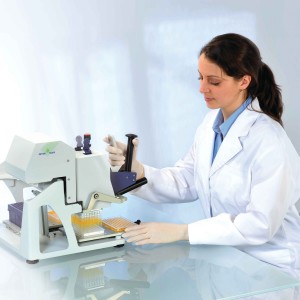 METTLER TOLEDO subsidiary Rainin Instrument has addressed the needs of operators running these high-volume experiments with Liquidator 96. This bench-scale, 96-channel manual pipetting solution provides accuracy without forcing operators to contend with electronic systems or complex computer programming. The result is pipetting ease along with significant efficiency gains.
Liquidator 96 allows pipetting in 96- and 384-well plates, PCR plates, 8- and 12-channel reservoirs as well as 96-deepwell plates. This enhanced handling speed represents a critical pipetting benefit, particularly when working with time-critical ELISA test procedures. Also, because Liquidator 96 works just like a manual pipette, it can be used by lab technicians at any experience level and still deliver reproducible results.
Finally, as a personal pipetting system, Liquidator 96 fits any bench-top or laminar-flow cabinet making it suitable for cleanroom conditions. For more on Liquidator 96, and to learn how optimized liquid-handling can help increase throughput for high-volume biotech experiments, watch our free Liquidator 96 video at www.mt.com/liquidator.
About METTLER TOLEDO
Rainin Instrument, LLC, is a wholly owned subsidiary of METTLER TOLEDO, a leading supplier of precision instruments and services worldwide. Rainin pipettes have long been the largest selling brand in North America and consistently ranks among the top premium pipette brands in Europe, Asia and the Middle East. METTLER TOLEDO is the world's largest manufacturer and marketer of weighing instruments for use in laboratory, industrial and food retailing applications.
It holds top three market positions in several related analytical instruments and is a leading provider of automated chemistry systems used in drug and chemical compound discovery and development. The company is also the world's largest manufacturer and marketer of metal detection and other end-of-line inspection systems used in production and packaging. Additional information about Rainin and METTLER TOLEDO can be found at www.mt.com.