EDMONTON – Those handy juice boxes stuffed into kids' lunches could soon be made of plastic from plants or algae if a new environmental campaign by global manufacturer Tetra Pak Inc. gets traction.
Raising the alarm about the world's looming shortage of metals and fuels, the Swiss-based packaging giant is calling for a shift to "renewable" materials to put into its ubiquitous packages.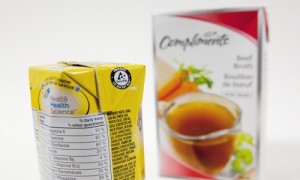 "When it comes to the world's resources crunch, there is a need for better management," said Elisabeth Comere, Tetra Pak director of environment and government affairs for Canada and the U.S., based in Chicago.
"We need to operate within the planet's boundaries."
Packaging for prepared food and drinks has long been a concern of the environmental movement because a lot of raw materials are used and quickly thrown away. That's why Tetra Pak stressed recycling of its packages for years and Canada is ahead of most countries on that front, said Comere.
Now it's time to move past recycling to "renewability," says the company's white paper called "Moving to the Front," and released last week in the U.S and this week in Canada. And there are business opportunities in this search for greener materials, Comere added.
For instance, this spring Tetra Pak's Brazil operations began using a form of polymer plastic made from sugarcane in about 13 billion packets. "Today is its bio-based plastic; tomorrow, it may be something else," said Comere. The packages are 75-per-cent paper board, 20-per-cent polymer  and five-per-cent aluminum.
"We want to be vocal about our preference for renewable material," said Comere, noting that the world's demand for raw materials will double by 2050. The report uses some strong language in its call for renewable materials that Tetra Pak says environmentally conscious consumers want.
"The truth is we are running dangerously low on natural resources and playing a self-destructive game with the limits of our planet. The time to change, innovate and lead is now," says the report.
"We must establish a new industry commitment to renewability — protecting natural resources and rewarding best practices and innovations that focus on the front end."
The company wants to recruit big beverage companies as well as environmental groups to supports its push for renewability. Tetra Pak already has a green certification standard to ensure their paper board supply comes from "sustainably managed" forests, Comere noted.
It wants the same kind of green certification to apply for manufacturers of the aluminum layer in every box that causes 44 per cent of the GHG from each box, she added. The metal is carbon-intensive to produce.