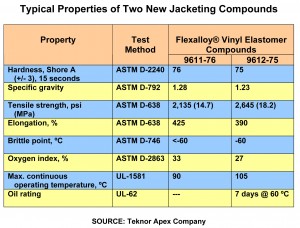 RUBBERLIKE FLEXIBILITY OF NEW PVC ELASTOMER JACKET COMPOUNDS EASES HANDLING OF INDUSTRIAL CABLES EVEN AT LOW TEMPERATURES
Flexalloy® 9611-76 and 9612-75 Exhibit 'Extremely Low' Brittleness Temperatures and a Balance of Properties Comparable to Higher-Cost TPU, TPE, and Rubber Materials
PAWTUCKET, RI, U.S.A., February 21, 2013: Two PVC elastomer compounds for jacketing of industrial and heavy-duty cables exhibit flexibility even at very low temperatures and provide a property profile comparable to more costly high-performance materials widely used in such applications, it was announced today by Teknor Apex Company. The new products will be introduced at Interwire 2013 (Booth 406).
Flexalloy® 9611-76 and 9612-75 compounds exhibit brittle points of -60 ºC or lower and provide the oil resistance, flame retardance, and wide range of operating temperatures required in such applications as control and instrumentation cables (Type CIC), tray cables (TC), and specialty power cords like those for charging electric vehicles. The new compounds have property profiles that compare well with those of the rubber, thermoplastic polyurethane (TPU), and other high-performance thermoplastic elastomers (TPEs) used in these cables, yet they are more cost-effective, according to Mike Patel, industry manager for the Vinyl Division of Teknor Apex.
Typical Types CIC and TC uses are in the petrochemical, pulp and paper, steel, cement, and mining industries. "Cables for these applications are often large and can be difficult to handle—especially at low temperatures—if the jacket materials lack sufficient flexibility," said Mr. Patel. "The extremely low brittleness temperatures of our new Flexalloy compounds enable them to comply with stringent cold-weather requirements such as that specified by the CSA's -40 ºC cable impact test."
Flexalloy vinyl elastomers are proprietary formulations that provide the elasticity and low-temperature toughness of TPEs, plus PVC benefits like flame retardancy.