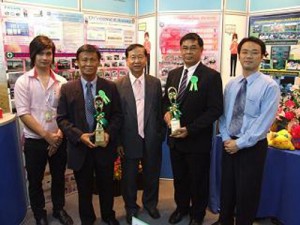 Tokyo, Japan, October 21, 2013 – Teijin Limited announced today the establishment of Teijin Corporation (Thailand) Limited, a wholly owned subsidiary that will produce and sell newly developed meta-aramid fiber starting in July 2015. Production will be handled at a new facility to be constructed on the premises of Teijin (Thailand) Limited in Ayutthaya Province beginning this December.
The company also will handle production and sales of converted products of the new meta-aramid fiber, which offers unprecedented heat resistance and excellent dyeing properties. Ultimately, the Teijin Group aims to establish a cost-competitive network for global sales of protective apparel utilizing the new Thai company's capabilities.
Teijin Corporation (Thailand) will additionally serve as a sales base for the Teijin Group's proprietary Panlite® polycarbonate resin and processed products, strengthening Teijin's capability to develop sales in Asia, one of its high-priority markets.The new subsidiary, which was officially set up on September 30, is headquartered on the premises of Teijin Polyester (Thailand) Limited in Pathum Thani Province.
Teijin is strengthening operations in Thailand under a strategy to expand business in the emerging economies of Asia and other regions. Thailand, already a global production and processing base for the Teijin Group's polyester fiber business, is a promising market with growing demand for chemical and fiber products.
About the Teijin Group
Teijin (TSE: 3401) is a technology-driven global group offering advanced solutions in the areas of sustainable transportation, information and electronics, safety and protection, environment and energy, and healthcare. Its main fields of operation are high-performance fibers such as aramid, carbon fibers & composites, healthcare, films, resin & plastic processing, polyester fibers, products converting and IT. The group has some 150 companies and around 17,000 employees spread out over 20 countries worldwide. It posted consolidated sales of JPY 745.7 billion (USD 7.4 billion) and total assets of JPY 762.4 billion (USD 7.6 billion) in the fiscal year ending March 31, 2013. Please visit www.teijin.com.