AHMEDABAD: Nearly 80 pols in Khadia, Kalupur and Wadigam areas were animated with activity on Sunday, when more than 400 students of the HBK School descended on the Walled City to join battle against plastic.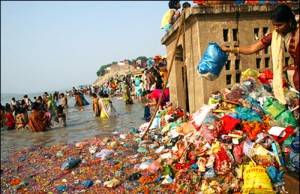 In one of the biggest eco-drives witnessed by Ahmedabad, the students led by 90 teachers and TOI's Youth Brigade – the frontline troops of the I Lead India initiative – distributed 10,000 paper and non-woven bags in exchange for plastic bags. The assault on plastic emboldened pol residents to embrace environment-friendly measures.
The campaign seemed to have galvanized citizens into participation. At Haja Patel ni Pol and Karoda ni Pol, people sat around chabutras patiently, waiting for their turn to receive the eco-friendly bags and dumping the noxious plastic. The HBK students also painted a series of murals on the walls of several pols and distributed more than 5,000 pamphlets to create awareness about cleanliness.
The campaign also found resonance in scores of others pols. At Padma Pol, numerous people from outside the Walled City approached the Youth Brigade members urging them to bring the I Lead India campaign to their areas too. Padma Pol was the last to win the Mayor's Cup for the cleanest pol, in 1965.
Seemoni Shah,13, a students of HBK school says, "In our awareness drive we taught households to make durable paper bags out of the newspaper stacked in their homes. My aim is to help reduce citizen's dependence on plastics."
Inspired by the Youth Brigade, Dahya ni Pol has set up a welfare committee which meets once a month to discuss the anti-litter strategy and problems faced by residents. Karoda ni Pol on Jadawala Road that houses more than 100 residential units has prohibited the dumping of household waste in the open. At Desai ni Pol in Khadia, people from other pols met the Brigade members and invited them to visit their neighbourhoods for encouraging residents to work for a healthier tomorrow.
In Timba Pol, a group of excited people were seen hanging hand-woven fruit baskets with a rope from their balconies to exchange plastic bags. Some of the other pols targeted include Bhandari ni Pol, Lambeshwar Pol, Bakar Ali Pol, Mamunayak Pol, Doshivadi Pol, Dhana Suthar Pol, Raja Mehta Pol, Totrani Pol, Dhobi ni Pol and Durgamata ni Pol.
The Ahmedabad Municipal Transport Service (AMTS) provided three buses at subsidized rates to transport the students from HBK School to key logistics points in the Walled City. "Since it involved schoolchildren in a civic drive, our department extended our co-operation," said deputy municipal commissioner Arjan Shah.
Source:  articles.timesofindia.indiatimes.com/2013-10-21/ahmedabad/43249376_1_pols-youth-brigade-plastic