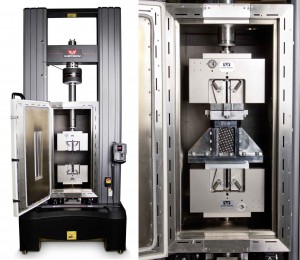 High Wycombe, October 16th, 2013 – A newly developed series of Instron® Manual Wedge Grips combines reliability with high precision and repeatable specimen alignment. This makes them capable of meeting the stringent alignment requirements of NADCAP AC7122-1 (for non-metal materials) and AC7101 (for metals), commonly used in the aerospace industry.
Whilst the Instron® 2716-028 wedge grips are designed for a nominal force of 100 kN, the 2716-030 wedge grips can take maximum loads of 250 kN. This makes them an ideal choice for demanding tensile tests with a large variety of materials such as metals, high strength fibre reinforced polymers and other rigid materials.
Their enclosed design resists dirt and debris. Symmetric closing of the grips is achieved via a safe and easy-to-use ratchet handle, whilst as the test proceeds, the wedge action allows the gripping force to increase in proportion to the applied load. Pull rods allow the grips to be used inside a compatible Instron® temperature chamber, providing a wide temperature range from –80 °C to +250 °C without changing parts or lubricants.
A variety of accessories widens the application area of the new manual wedge grips. These include "piggy back" adaptors and fixtures for different test types (e.g. compression and flex) which can be attached with the grips left on the system. Beyond this, jaws with different faces are available, which can be changed in seconds without the use of special tools. Optionally available Specimen Centering Stops support an exact positioning of the specimens.