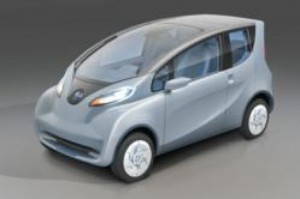 Tata Technologies, a leading global provider of engineering services and product development IT, will present a panel discussion titled "How Electric Vehicles Will Impact Design and Materials" and display its electric MObility (eMO) engineering study EV at the Plastics News Plastics in Lightweight Vehicles 2012 Conference Nov. 6-7, in Livonia, Mich. eMO made its world debut at the North American International Auto Show (NAIAS), in Detroit, in January 2012.
"The eMO project symbolizes the coming of age of Indian automotive engineering," Warren Harris, Tata Technologies President and COO said at its NAIAS debut. "It is a tangible example of the capability of Tata Technologies to engineer a full vehicle – a first for any India-based engineering services company." The eMO architecture emphasizes "right size" personal urban transportation by minimizing its exterior footprint and maximizing interior space. With sustainability in mind, eMO benefits from a low carbon footprint and a recyclability strategy. The business case underpinning the eMO project sets the MSRP at the disruptive price point of $20,000, before tax incentives or rebates.
Teams working in North America, Europe and India collaborated to develop the innovative eMO study, which includes a unique integrated rear window/rear light assembly. Overall, there are 15 patent applications in progress on the project.
Plastics in Lightweight Vehicles 2012 Conference
The second annual Plastics News Plastics in Lightweight Vehicles Conference will cover requirements and strategies for achieving global fuel economy standards, focusing on the real-world issues of product deliverability, quality and cost for all members of the supply chain. On November 6-7, presenters will cover key market and technical information, including the role plastics can play in interiors, seating, structural powertrain and under-the-hood components. Plastics also play a key role in electrification, battery and hybrid technology.
About Tata Technologies
Tata Technologies, founded in 1989, is a global leader in Engineering Services Outsourcing and Product Development IT services to the global manufacturing industry; enabling ambitious manufacturing companies to design and build better products. Tata Technologies is a company of innovators, specialists in the design engineering space, who apply cutting-edge technology to provide a competitive advantage to customers in the manufacturing sector. The company is a strategic partner for developing complete vehicles (VPD group), engineering subsystems and components (E&D), managing the NPI process and collaborative engineering (PLM), and tying together information created and used throughout the extended manufacturing enterprise (ESG).
Tata Technologies is headquartered in Singapore, with regional headquarters offices in the United States (Novi, Michigan), India (Pune) and the UK (Coventry). The company has a combined global work force of more than 6,000 employees serving clients worldwide from facilities in North America, Europe and the Asia-Pacific region.
Source : http://www.ourmidland.com/prweb/article_db1bcb47-3db6-5ee3-829b-68b42216ee93.html