For the first time at Fakuma, Engel Austria had exhibited at two stands. The injection molding machine manufacturer says it is satisfied with the increases in trade fair contacts and sales this year.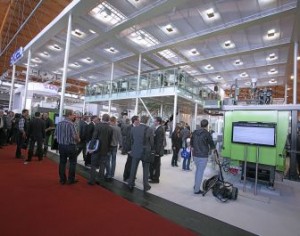 "Our motto of E-novation: Efficiency & Innovation once again caught the spirit in the plastics processing industry and helped us network with many new customers. The trend towards increasing internationalization was again reinforced at Fakuma this year." Gerd Liebig, Global Marketing Director with Engel Austria, sums up. "While one third of all visitors to the ENGEL stand were from German-speaking countries, the percentage of international visitors, especially from eastern Europe and Scandinavia once again rose. This makes Fakuma the undisputed number two in the plastics industry."
One of the highlights was the new Engel e-mac injection molding machine series, an all electric and high precision machine that requires very little floor space and is extremely economical despite being fully modular. This was demonstrated by two sample applications. An Engel e-mac 50/50 with 50 tons clamping force produced two-pin PBT plug housings in a four-cavity mold in the East Foyer. Because the plug contacts are not pressed in until after injection molding, the dimensional stability of the components is the deciding factor in economic production. The Engel e-mac 50/50 was equipped with a size 18 screw. The shot weight for producing the plugs was a mere 3.6g.
In cooperation with mold making partner Elmet, an Engel e-mac 310/100 with an integrated Engel viper 6 linear robot produced polypropylene (PP) and liquid silicone wine bottle stoppers. Thanks to low temperature UV vulcanization, these two materials can now be processed in a single step. Production of food containers with an integrated barrier layer was also demonstrated. Engel has succeeded in combining barrier technology with thin-wall injection molding thanks to co-injection of PP and EVOH.
The high-precision, all electric Engel e-motion injection molding machine provides maximum productivity with low energy consumption, while at the same time ensuring that the EVOH barrier layer of just 0.05mm thickness is reliably implemented right to the edges. In view of its growth in the Germany market, Engel revealed that it is opening its fourth subsidiary near Stuttgart in January 2013.
Source : http://www.adsalecprj.com/Publicity/MarketNews/lang-eng/article-128366/Article.aspx