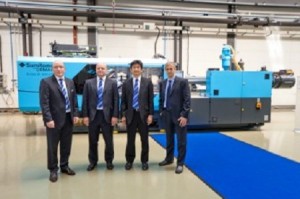 Sumitomo (SHI) Demag announced that Christian Renners and Andreas Schramm will take over responsibility as new managing directors while Shaun Dean resigns as Chief Operational Officer to take up more responsibilities within Sumitomo Heavy Industries Ltd Japan. The moves will come into effect from June 1.
Mr Renners, Business Unit Manager Sales and After Sales at Sumitomo (SHI) Demag, takes over full responsibility as Managing Director (Chief Sales Officer) for Sales, After Sales, Marketing and all Subsidiaries.
Mr Schramm, Manager of Research and Development at Sumitomo (SHI) Demag, is appointed Chief Technical Officer with full responsibility for R&D, Quality and production of the injection molding machine manufacturer located in Schwaig near Nuremberg, Germany.
In their new positions Mr Renners and Mr Schramm will cooperate with Dr Tetsuya Okamura, Chief Executive Officer and Senior Vice President of Sumitomo Heavy Industries Ltd Japan.
Meanwhile, Mr Dean will resign as Chief Operating Officer of Sumitomo (SHI) Demag and return to Sumitomo Heavy Industries Ltd. Japan where he will take up wider responsibilities within the SHI Group.
Source: http://www.adsalecprj.com/Publicity/MarketNews/lang-eng/article-67005127/Article.aspx