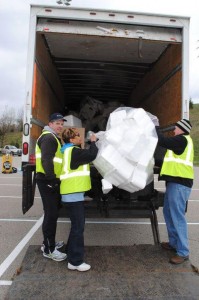 NOVA Chemicals, headquartered in Canada, has recently released its new R625B expandable polystyrene (EPS) shape molding resin containing 25% recycled content for protective packaging and other shape molding applications.
Working with RAPAC, a supplier in North America for polystyrene and expanded polystyrene recycling, NOVA has developed the R625B, which contains 75% virgin EPS from NOVA Chemicals Beaver Valley facility and 25% EcoSix, RAPAC's recycled polystyrene.
Compared to alternative recycled content EPS, NOVA Chemicals says R625B is measuredly improved in both resin consistency and processes similar to virgin EPS resin with no additional equipment needed.
"We are excited to deliver a consistent, high quality, next generation EPS resin with recycled content to North American shape molders. R625B is a resin that conserves natural resources and is expected to spur market development of EPS recycling," said John Thayer, Global Business Director of the EPS Business at NOVA Chemicals.
Source: http://www.adsalecprj.com/Publicity/MarketNews/lang-eng/article-67005128/Article.aspx