BASF has entered into a definitive agreement to fully acquire the business and assets in Taiwan and Mainland China of Taiwan Sheen Soon (TWSS), a manufacturer for thermoplastic polyurethanes (TPU) adhesives base material.
The deal is expected to close in 2015, pending necessary internal and external approvals. The integration will take effect in 2015. Financial terms were not disclosed.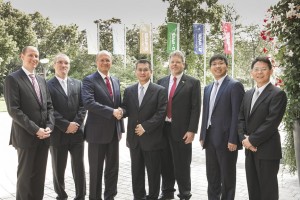 "The acquisition is part of our efforts to systematically pursue growth in the attractive TPU market. It is a valuable addition to our existing TPU portfolio; strengthening our manufacturing footprint in Asia," said Raimar Jahn, President, Performance Materials, BASF.
According to the company, the acquisition of the adhesives business of TWSS complements its TPU extrusion as well as injection molding grades for various segments, such as footwear.
"TWSS's unique expertise for TPU adhesives is backed by established long-standing customer relationships and a global presence," said Jason Chou, Managing Director and owner of TWSS, who will continue to oversee the business as a consultant to BASF.
More Information…
www.adsalecprj.com