Spot styrene prices in Asia are showing signs of stabilization after slower demand and fluctuating crude oil prices put a cap on the increasing trend despite upward pressure from several shutdowns as per the pricing service of ChemOrbis. September crude futures on the NYMEX declined below the $105/barrel threshold to hit the lowest level since July 9 at the end of last week. Although prices declined 3.1% over the past week, they are still suggesting a rise of 14% this year.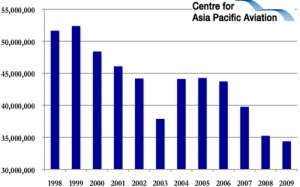 Despite tracking a largely stable trend over the past week, spot styrene prices are still around $120/ton higher than early July levels after posting notable increases in the previous week due to tight supply in the region. Japan's Denka shut its 270,000 tons/year styrene plant at Chiba following a fire on July 20.
Market sources reported that the plant is expected to resume operations this week. Following the shutdown of the Chiba plant, Toyo Styrene, a subsidiary of Denka, was planning to shut its 132,000 tons/year PS plant at Chiba over the past weekend unless they procured feedstock from Denka. China's Tianjin Dagu was also planning to shut its 500,000 tons/year styrene plant on July 25 briefly for repairs after experiencing a technical problem.
Taiwan's Formosa Chemicals & Fibre is expected to shut its 250,000 tons/year No 1 and 350,000 tons/year No 2 styrene plants at Mailiao, Taiwan for a month long maintenance in August. The company has already lowered operating rates at its ABS and PS plants in Ningbo, China in the second half of this month in order to be prepared for a reduction in styrene supply. The 300,000 tons/year ABS plant is now running at 60-70% of capacity and the 200,000 tons/year PS plant is running at 70-80% of capacity.
According to ChemOrbis, in response to firmer styrene costs, many producers have started cutting back on downstream production. China's Fujian Fangxing Chemical shut its two PS lines, each with a capacity of 60,000 tons/year, pointing to higher feedstock costs and weak demand. The company is yet to set a restart date for the plants. Hong Kong Petrochemical continues to run its 140,000 tons/year PS plant in Yuen Long at low rates for a third consecutive month citing sluggish demand and higher costs. The company is planning to keep their operating rates at 60-70% if feedstock costs remain firm.