Reliability, high performance, energy savings and, above all, a capacity to act as a 'sole' industrial partner providing complete, integrated plant engineering solutions. This is how Negri Bossi, the Sacmi Group's company aims to present itself at Europe's key plastic industry event. There will be two stands: one for the Sacmi brand, the other for the Negri Bossi brand.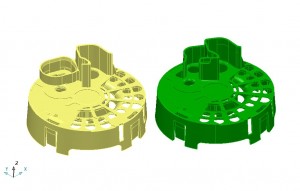 High tech solutions, applications with fully renewed design capable of meeting every possible production requirement in full: this, in short, is what Negri Bossi is all about. As in past years, Negri Bossi is once again taking full advantage of the K fair in Düsseldorf – the international event dedicated to plastic and rubber processing technology – to exhibit all its very latest innovation.
On a 800m2 stand (hall 15b, stand 22), entirely dedicated to injection, Negri Bossi will be showcasing no less than 8 integrated production centres featuring machines with 2-platen and toggle-clamp injection technology, all equipped with Smart Energy devices to contain consumption.
To start things off there is the new Bi-Power VH 1000, the smallest of the 2-platen range which has, over the years, allowed Sacmi to become a key partner in the international automotive, environmental, large-scale packaging and construction industries.These machines combine power, performance and energy saving and are able to mould "one step" articles of wide dimensions and complex design with reduced cycle times.
Moving on, there will also be a 650 ton version of the evergreen Vector series with integrated robot, set up with a mould for Polycarbonate headlight reflector dishes. And there'll be another icon of the Negri Bossi range, a Canbio 210 equipped with a mould for automotive heat shield caps in PA66 +25% GF; this unit, like the former, will also feature an integrated Sytrama robot. All the machines in the 160- 500 ton range will be equipped with the new Smart Flex clamping units with optimised structural rigidity and V-rails to guide the mobile platen, this creating an Oil-Free moulding zone.
Moreover, the full electric version of the Vesta 300 will also be on show: in addition to the Smart Flex clamping unit this also features the new actuator with ultra-rapid ball bearing screw to meet the specific needs of the packaging and medical industries, which require short cycle times.
Another solution designed for the medical sector is the electric version of the Eleos 65, an extremely compact 2-platen machine that will mould a Polypropylene syringe component; an EOS 120 hydraulic version with inverter on the variable-capacity pump will, instead, be exhibited in its LSR version.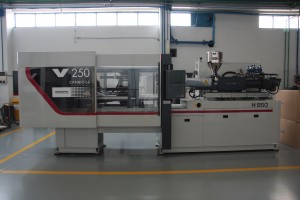 The base of the injection machine 'pyramid', instead, will be represented by the excellent Sintesi Global machine belonging to the BM Biraghi brand, the Negri Bossi Group's perfect entry level solution for technical moulding.To demonstrate Negri Bossi's technical capacity to provide turnkey solutions, the range on show at K 2013 will be completed with an integrated PET test tube moulding centre, based on the Janus hybrid series and equipped with a 32-cavity Gefit mould and Piovan pellet treatment system.
The Negri Bossi stand will also showcase Sytrama's new Cartesian S-series manipulators. Extremely fast and precise, these are suitable for even the most difficult applications (e.g. IML).The Sacmi stand, with some 700 m2 of exhibition space (hall 13a, stand 63), will exhibit innovative, flexible, high performance solutions for the production of caps, preforms and containers.
K 2013 is a world-class fair dedicated to the plastics industry and will take place in Düsseldorf from 16th to 23rd October: an excellent platform, then, for the Sacmi Group's integrated solutions for the global plastic industry.