Spot styrene prices in Europe extend their upward trend after surging from their lowest level recorded since December 2012 in early October as per the pricing service of ChemOrbis. The recent rally in styrene costs was attributed to dwindling supply in the region rather than developments in the upstream markets.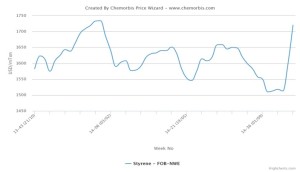 Spot styrene prices on an FOB NWE basis have surged by over $200/ton on the week, exceeding the $1700/ton threshold on October 10. Following these sharp gains, spot prices have almost rebounded to a year high level recorded at the beginning of January.

Shell Chemicals declared force majeure on the styrene output from their Moerdijk facility in the Netherlands towards the end of last week. Prior to the force majeure, the company experienced a steam leak at their cracker on October 2 and shut their manufacturing units at the site. Shell's facility at Moerdijk is able to produce 450,000 tons/year of styrene. The styrene unit is not expected to resume operations before the end of this year. The company also operates another 550,000 tons/year propylene oxide/styrene monomer unit at the same site under its BASF joint venture Ellba.

Shell's outage coincided with Versalis' styrene shutdown in Italy. The company's Mantova plant has been offline for planned maintenance since the end of August. The 200,000 tons/year plant is expected to resume operations within this week.

The upstream markets, on the other hand, remain on a soft note. Spot benzene prices receded to the early October levels following a brief increase upon Shell's Moerdijk outage, weighed down by the weak energy markets. Brent crude for November delivery rose 16 cents to settle at $90.21/barrel on October 10. Futures neared to $88/barrel during intraday trading, the lowest level since December 2010. Brent crude futures declined 2.3% during last week, posting their third weekly drop.

According to ChemOrbis, looking at the downstream markets, the effects of the firming styrene trend are yet to be felt in Europe. PS prices are tracking a largely stable trend across the distribution markets in the region after some producers approached the market with modest hikes at the beginning of the month.