Spot ethylene prices in Europe have climbed higher this past week, driven by news of Shell's force majeure announcement at its Moerdijk, the Netherlands steam cracker at the start of October as per the pricing service of ChemOrbis. Spot ethylene prices soared from the lowest levels seen since May 2013 despite the plunging crude oil and naphtha costs in the region.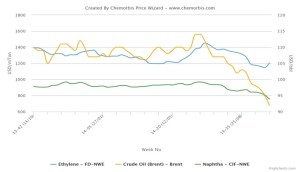 Shell declared force majeure on ethylene, propylene, styrene and benzene output from their Moerdijk, the Netherlands site over the weekend due to a steam leak at their 900,000 tons/year cracker on October 3. The petrochemical units affected by the steam leak are reportedly not expected to restart before the end of 2014.
ICE November Brent crude futures posted a cumulative decrease of over $2.5/barrel in a week, bringing prices to the lowest level since more than two and a half years. The fall was triggered by concerns about rising global oil supplies. Output from OPEC as well as Russia were up in September, industry sources reported, while the International Energy Agency cut demand projections for the years 2014 and 2015.
In Europe, spot naphtha followed suit as values declined by around $65/ton since the start of October owing to low demand and long Asian supplies. The latest figure hit the lowest level since April 2013. Nevertheless, spot ethylene figures on FD NWE basis surged by around €75/ton since October started owing to availability concerns for the monomer.
According to ChemOrbis, some European players questioned whether rising spot ethylene costs may create firmer sentiment for the coming days in the region's downstream PE market. October PE prices were revealed with rollovers mostly, or small hikes depending on the grade. A packaging converter in Italy commented, "The lower end prices may fade in the coming months in case ethylene costs continue to firm up. Hence, we purchased some import Middle Eastern cargos to be delivered in December. Meanwhile, supply for some LDPE and HDPE grades is tight for now." A film converter in France also stated that HDPE and LLDPE supplies were limited.