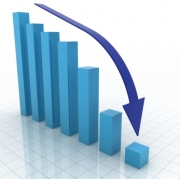 Spot ethylene prices followed opposite directions in major global markets against lower upstream costs including energy and naphtha over the past week, as per the pricing service of ChemOrbis. Ethylene prices added to their losses in Europe amidst thin demand from buyers whereas offers firmed up significantly in Asia and the US mainly driven by restricted supplies in these regions.
On NYMEX, crude oil futures for January deliveries declined nearly $3/barrel week over week. ICE January Brent crude prices registered a larger drop of more than $4/barrel in the period. Tracking the energy complex naphtha prices softened by around $15/ton on CFR Japan basis in Asia, while they were down by $25/ton on CIF NWE basis in Europe on the week. The latest figures stood $10/ton and $30/ton below early November levels, respectively.
In response to the weaker upstream chain, spot ethylene offers in Europe decreased €20/ton on FD NWE basis over the past week, bringing the total fall to around €120/ton since early November. After posting steady decreases during last month, spot ethylene prices maintained their softening trend in early December owing to muted demand from buyers.
According to European market sources, offers for deep sea cargoes lost ground widening the gap between local prices which may force cracker operators to reduce their production further. Looking at the supply side, Repsol shut their 410,000 tons/year cracker in Portugal for maintenance while Dow is experiencing some production problems at their 670,000 tons/year cracker located in Spain, market sources commented. Defying lower upstream markets, ethylene costs followed an opposite direction both in Asia and the US markets as the ongoing supply issues created active trading and drew spot monomer prices higher in those regions.
In Asia, spot ethylene prices posted a three digit increase of $100/ton on CFR Northeast Asia basis with respect to the previous week and erased the previous losses during November, as per ChemOrbis. Offers gained a modest $25/ton on CFR Southeast Asia basis as well but remained $80/ton below early November levels. The recent jumps were attributed to lower run rates at regional crackers amidst producers' need to recoup their negative margins. Sellers are not aggressive to sell their ethylene cargoes, according to traders in the region, as they do not find current market levels attractive to trade.
In the US, news about unexpected production problems pushed spot ethylene prices higher from the last week of November. Shell Pipeline Company reportedly experienced a leak at an ethylene pipeline and declared a force majeure given two days of repairs. This was followed by a shutdown at the company's Norco cracker as the company had to shut its 850,000 tons/year cracker given a power outage. ExxonMobil was also said to have shut their Baton Rouge, Louisiana unit given some technical problems. As a result, spot ethylene prices spiked 2.25 cents/lb ($49.59/ton) on FD USG basis in a week, although they still stand 1.5 cents/lb ($33/ton) below early November.