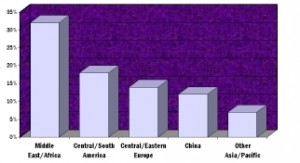 Middle Eastern producers had revealed their initial November PE prices to the Turkish and Egyptian markets with rollovers to decreases since last week, as per the pricing service of ChemOrbis. This week, the regional producers' offer levels started to alter. Apart from these, converters in Jordan also report similar pricing policies regarding the Middle Eastern producers' offers.
In Egypt, initial November offer levels had generally been announced with decreases of $20-80/ton while one producer elected to leave their prices unchanged from October levels for LLDPE film. However, this week, the country's import market saw some additional downward adjustments of $30-60/ton and players attributed this situation to the weak polymer demand, liquidity issues and the ongoing political instability inside the country. Plus, they point to the approaching year end book closures for the current weak market conditions. Inside Egypt, some converters also complain about facing some labor issues which affect their production capacity negatively.
In Turkey, a major regional producer had revealed their LLDPE prices with rollovers to $30/ton decreases and they cut their HDPE film prices by $30-50/ton from October. A week later revealing their new prices, the supplier's offers saw additional decreases of $60-70/ton for LLDPE and $20-40/ton for HDPE film. Meanwhile, this week, a global producer revealed $80/ton decreases for Middle Eastern LDPE film and $50/ton decreases for LLDPE film when compared to their October done deal levels. A source from the producer claimed, "We saw good demand at our new lower offer levels and we already managed to sell most of our quotas."
Converters inside the country do not feel content with their end product demand while some already hold sufficient stock levels at their warehouse to work with. "We are not in a hurry to make fresh purchases as we expect more or less stable offer levels for the rest of the year," a converter performing in the packaging sector told ChemOrbis. Another remarked that they are expecting further decreases in the days ahead given the weak end product markets and "too-high" raw material prices when considering the current market conditions.
Meanwhile, Jordan started to receive more Middle Eastern prices this week with $30-80/ton decreases and a regional producer, who initially rolled over their November PE prices to the country, changed their pricing policy and lowered their offer levels by $30-50/ton from their initial levels.