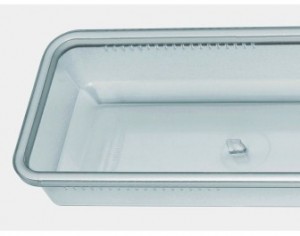 Sonderhoff, a sealing solutions provider based in Germany, have developed two new types of addition-crosslinking silicone foam sealants, FERMASIL 91 and FERMASIL 93, ready for series production. The company says these silicone foam sealants harden at room temperature within a relative short time. They are dry-to-touch after just 10 to 12 minutes at room temperature without the need of an annealing furnace, thus saving energy costs and time.
The FERMASIL 91 silicone foam system with a lower viscosity of up to 25,000 mPa∙s has been developed for groove applications and the FERMASIL 93 thixotropic system with a viscosity of 80 to 130,000 mPa∙s for applications on even or inclined surfaces. The application process takes place with a two-component low-pressure mixing and dosing system from Sonderhoff Engineering.
According to the company, the new silicone sealants achieve very low compression set. FERMASIL 93 has a compression set of < 15%, while it is just < 10% for FERMASIL 91. Both values of the compression set are tested under conditions 22 hours, 30% compression and at 130°C. Also with repeated compression and at a temperature of up to 180° C the compressibility of the silicone foam sealants from Sonderhoff needed for the sealing effect is retained and the sealed parts remain leak-proof even after years.
The compression set is also good enough without tempering so that the component, equipped with the new FERMASIL 93 or FERMASIL 91 silicone sealants, passes the ATEX test standards (the component is tested together with the sealing as one system).
In the EU, the ATEX directive 94/9/EC ("explosive atmosphere") regulates and monitors the flawless use and application of equipment in potentially explosive surroundings, which are used in underground operations or other explosive areas. The strict test conditions include temperature tests in the range of -50° C to +100° C with subsequent leak tests against foreign bodies and water to the highest criteria, which are comparable with the very high IP66 class ("ingress protection").