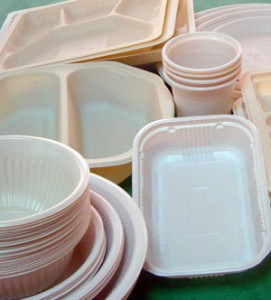 Another California city has put the lid on expanded polystyrene packaging.
The Hermosa Beach City Council has officially approved a ban on polystyrene food packaging, which is expected to impact about 30 businesses in the beach town, including restaurants and grocery stores.
PS foam is a lightweight petroleum-based plastic material commonly used for serving or transporting prepared foods, such as plates, bowls, clam shells and cups.
Many environmental groups view polystyrene as a main cause of beach and ocean pollution. This material breaks down into smaller pieces, and marine wildlife can mistake polystyrene pieces for food.
The polystyrene ordinance at Hermosa Beach is expected to be formally approved at a Sept. 11 council meeting and will become effective 180 days from that date. The ordinance won't prohibit people from carrying polystyrene products into the city, or using them in parks and on the beach, according to The Daily Breeze. The rule also won't apply to the Hermosa Beach City School District.
Keith Christman, managing director of the plastics markets for the American Chemistry Council, told PlasticsToday he does not believe bans are the solution to reduce waste.
"Litter is certainly a challenge," he said. "But we have to work on preventing litter and making sure products are disposed of properly and recycled after use."
A study comparing the energy consumption, water use, solid waste (by weight and volume), and greenhouse gas emissions for PS, paper, and bioplastic PLA (polylactic acid) found that PS uses less energy and water than its "green" competitors over its lifecycle from production to transportation to disposal.
The peer-reviewed study was commissioned by the Plastics Foodservice Packaging Group of the American Chemistry Council, with the researchers declaring that PS's lightweight was the primary reason that it uses "significantly" less energy and water than comparable paper-based or corn-based alternatives.
PS foam products consume half as much energy as wax-coated paperboard cups and one-third as much as PLA clamshells, the report stated.
Statewide ban on the horizon?
Still, more than 60 jurisdictions in California, including inland and coastal, large and small municipalities, already have enacted some sort of polystyrene food-packaging ban. All of these jurisdictions' food vendors must provide take out in alternative packaging including, paper, plastic, compostable materials, aluminum foil, etc. San Francisco was the first major city to enact the ban in 2007, which required that all takeout food packaging be recyclable or compostable.
Senate Bill 568 calls for a statewide ban on polystyrene food packaging. The California Assembly has until Aug. 31 to vote and advance the bill to Gov. Jerry Brown's desk for final approval this legislative session.
SB 568, by Sen. Alan Lowenthal (D-Long Beach), would prohibit a food vendor or restaurant on or after Jan. 1, 2016 from dispensing prepared food to a customer in a polystyrene foam food container. The compliance date for public schools is July 1, 2017.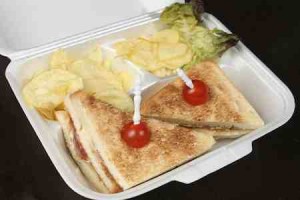 However, the bill would also allow a school district or local jurisdiction (City or County) that has a verifiable recycling program and recycles more than 60% of its foam foodware to continue to dispense food in foam after the ban goes in effect. This recycling program would have to be renewed every five years.
The bill states that California jobs will increase if SB 568 is passed. Currently there are more jobs manufacturing non-foam packaging in California than foam food packaging related jobs, the bill stated.
"Large companies like International Paper, Fold-Pak, Hutamaki, Dart, and Pactiv make non-foam products in California," the bill stated. "Increasing demand for non-foam packaging will boost employment in these facilities and potentially other cities in CA."
Studies by several municipalities and the Department of Transportation find that polystyrene comprises 15% of street and storm drain litter.
The ACC states that polystyrene is not "filling up" landfills. Polystyrene foodservice packaging currently accounts for less than 1% by weight and volume of land-filled materials, the group stated.
Christman said the value and economic benefits of polystyrene proves it's a good choice for both the environment and for restaurants.
"I think many communities have looked at the facts and they strongly support maintaining polystyrene," he said. "Many groceries and restaurants know the value of polystyrene products. People are going to continue to use it."
SOURCE : http://www.plasticstoday.com/articles/Polystyrene-bans-continue-to-grow-in-California-08162012011