While I was out and about this weekend, I saw someone had thrown their polystyrene foam foodservice packaging on the side of the street. My initial reaction: irritation that people so carelessly litter—it never ceases to amaze me.
On the other hand, I also thought that it would sure be nice if recycling were much easier and convenient for consumers.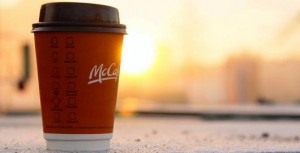 I recently completed a three-part series about PS foam, which covered bans, recycling and alternative materials. As you can tell, the topic is still fresh in my mind. Since one of the most recognizable users of PS foam are fast-food businesses, here's a closer look at their relationship with this form of packaging.
McDonald's
If you ate McDonald's prior to the late 1990s, you may remember your Big Mac and other sandwiches being served in polystyrene clamshell packaging. But due to environmental pressure, the fast-food giant switched from polystyrene foam clamshells to paper-based wraps for its sandwich packaging.
Environmental group As You Sow said once McDonald's stopped using foam-based clamshell packaging, it eliminated more than 300 million lb of packaging, saving an estimated $6 million per year.
However, the company had continued to use billions of foam-based beverage cups. Well, last year McDonald's announced that some 2000 of its restaurants would replace PS cups with double-walled paper ones.
Bob Langert, VP of sustainability at McDonald's, told the Chicago Tribune that "(Consumers) care about where their food comes from, how people are treated, and impacts on the earth. And they want to do business with people who care about the same things they care about." Finding an alternative to polystyrene, he said, "is all upside."
Jamba Juice
Jamba Juice plans to increase the use of more environmentally friendly materials, including phasing out of polystyrene, which Jamba intends to complete during 2013.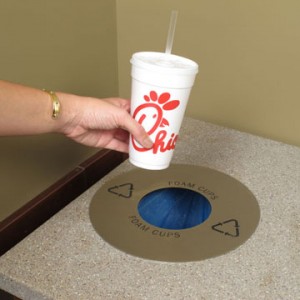 Jamba has been working with a variety of organizations examining alternative options for removing PS and other waste from their waste stream and expanding their use of more sustainable packaging, and managing energy consumption.
"We officially announced our eco-sustainability platform in 2009 and one of our key initiatives was focused on the next evolution of our cold beverage cup," said Susan Shields, Sr. VP and chief innovation officer for Jamba Juice. "We are committed to reducing our environmental footprint and to working with like-minded organizations, in the exploration of new packaging technologies and waste management infrastructures that enable continuous improvement."
Dunkin' Donuts
Earlier this summer, Dunkin' Donuts said in its corporate social responsibility report that it will phase out foam cups in the next two to three years and start testing what it describes as a more eco‐friendly paper cup with recycled content. During the transition, it will recycle the foam cups at restaurants it owns.
"We continue to search for a long-term alternative to our Dunkin' Donuts foam cup and hope to roll out a cup that meets our cost, performance and environmental criteria within two to three years," Dunkin' Donuts CEO Nigel Travis said. "In the interim, we launched an in-store foam cup recycling pilot in our company-operated stores and will work with our franchisees to expand that program into as many stores as possible. We also plan to introduce an improved reusable cup program in the next six to 12 months."
Chick-fil-A
Despite the switch by competitors, several fast food chains, such as Sonic Drive-In and Chick-fil-A, still use PS foam. In fact, Chick-fil-A says the company currently recycles its foam cups in more than 100 Chick-fil-A restaurants, including all of its locations in California, and plans to extend the program to the entire chain by the end of 2014.
There's even a special section on its site dedicated to PS foam, saying: "The most common question we receive in regard to our environmental impact is about our foam cups."
"Through research and tests of a number of environmentally-friendly' cup options, we have concluded that none serve our customers as well as the foam cup," the company said. "One thing that makes our current cups stand out is that they are recyclable where facilities exist. Most paper cups used in our industry are not recyclable at all, as they are coated with a substance designed to reduce leakage. Additionally, most common paper cups will not break down over time in a landfill."
Foam cup recycling is a major focus area in its environmental journey and also where Chick-fil-A can have the most immediate impact, the company stated. In 2013, they plan to add another 400 restaurants to the foam recycling program, and their goal is to complete chain-wide implementation by the end of 2014.
What are your thoughts on PS foam?
Source: www.plasticstoday.com/blogs/Some-fast-food-brands-look-beyond-polystyrene-others-embrace-it-08120201301